Your current location:
International Crime Science Conference
International Crime Science Conference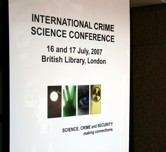 The Centre for Security and Crime Science at University College London (UCL) held the first International Crime Science conference this summer. The university, based in Bloomsbury, showcased thought-provoking research and ground-breaking new security technologies.

Held at the British Library in July, the Conference brought together senior security and crime reduction practitioners, manufacturers, entrepreneurs and leading academics.

Lively debates, chaired by broadcaster and journalist Nick Ross, encouraged the discussion of hot topics such as the ever present issues surrounding the DNA database and the problems of, and solutions to, securing large-scale public events. Key speakers included Peter Neyroud, Chief Executive of the NPIA; Tony Lake, ACPO lead in forensic science, and Peter Ryan, security consultant to the 2012 Olympics.

Following the success of this first edition of the International Crime Science Conference, the organisers are already preparing the 2008 edition. For more information: www.crimescience.org

The British Library was also the venue for the Environmental Criminology and Crime Analysis conference, where a group of internationally renowned experts shared their ideas with a strong police and analyst audience.

There was a strong focus throughout on situational crime prevention with, for example, Richard Wortley of Griffith University, Australia outlining a preventative approach to child sex offending. Although child sex offenders are usually considered in a psychiatric rather than criminal context, Wortley argued that in the vast majority of cases the evidence does not support a psychopathological dynamic and that instead, their behaviour is a result of situation and person interaction. Therefore crime can also be prevented by altering the immediate environment to reduce opportunities and other situational pressures. As the majority of offenders know the families of their victims, this could include, for example, teaching parents to recognise signs of someone 'grooming' their child.

A highlight of the conference was a presentation from David Kennedy, from John Jay College in New York. David talked about his highly innovative and successful approach to tackling gangs, guns and drugs. This approach is now being considered by the Metropolitan Police and a number of other agencies in the UK for implementation here.