Your current location:
Full class of first-class graduates for Dorset Police
Full class of first-class graduates for Dorset Police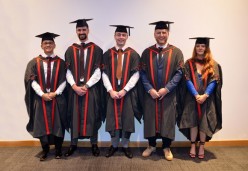 This week, Dorset Police is celebrating two-fold. It is the first graduation ceremony for their University of South Wales (USW) student police officers, and they have all achieved first-class honours.
USW is the only university in the UK to work with multiple forces across England and Wales to deliver specialist police education. They offer a three-year apprenticeship degree in Policing, or a two-year diploma for those who already hold a degree.
The Police Education Qualifications Framework programme has been running for three years and Dorset Police cohort are the first English cohort to cross the stage.
The vocational collaboration prepares the police officers for their chosen careers by testing operational policing capabilities and academic rigor.
John Gately, Senior Lecturer in Policing Practice said: "On behalf of USW, I would like to thank all the dedicated people who work tirelessly to improve the programme and the different courses. Dorset Police are a fantastic partner and committed to helping all the student officers through good and challenging times.
"Throughout this time, we have seen committed students juggling operational police work with study and training. We do not underestimate the dedication and effort required and we are constantly making improvements based on their feedback. This helps us create an ethical team culture and adheres to the Policing Vision 2025 to embed consistent professional practice that is ethically based and informed.
"We wish the graduates every success."
USW is also partnered with Dyfed Powys Police, Gloucestershire Constabulary, Wiltshire Police, and Devon and Cornwall Police.