Your current location:
College trainer's national first
College trainer's national first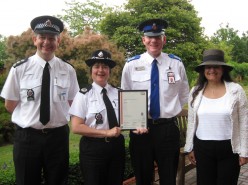 Pictured, from left, are: Chief Insp Ian Cummings, head of operational training, Assistant Chief Constable Sue Harrison, trainer Jason Poole and Pankajni Trivedi, head of learning and development
Jason Poole is first in country to achieve new qualification.

Essex Police College trainer Jason Poole is the first person in the country to achieve a new vocational qualification in conjunction with the National Policing Improvement Agency (NPIA).

Jason was assessed at work to gain his Level Four grading in the new Vocationally Recognised Qualification (VRQ) in conjunction with City and Guilds.

First he gained a Level 4 Preparing to Teach in the Lifelong Learning Sector (PTLLS) qualification. Then he went on to achieve a Level 4 in his Certificate in Teaching in the Lifelong Learning Sector (CTLLS).

Both awards are qualifications which all teachers have to attain before they can teach in schools. They are obtained by a mix of teaching observed by an internal (college) assessor along with various research and written pieces.

The NPIA then verifies the assessment before it is finally approved by City and Guilds. Gaining both his PTLLS and CTLLS meant Jason was awarded the first VRQ in the country.

Two other members of Essex Police College staff - Natalie Watkins and Aidan Brick -are in the final stages of gaining their VRQs.

Police Community Support Officer (PCSO) learning and development manager Nichola Hurley said: "Jason devoted a vast amount of personal time towards this qualification alongside his full-time teaching role as a PCSO trainer.

"And he had to train a new PCSO trainer and learn a new six-week PCSO programme at the same time.

"The VRQ will help us to continue the professionalisation of Essex Police College and I congratulate Jason on his achievements."