Licensing SAVI collaborates with WalkSafe app to help plan safer nights out
Licensing SAVI collaborates with WalkSafe app to help plan safer nights out
Tuesday, 24 October, 2023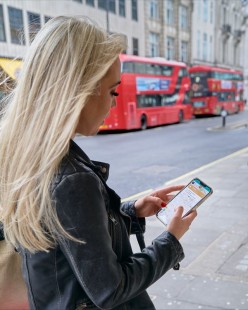 Licensing SAVI, the official police security initiative aimed at improving safety and security in licensed venues, has joined forces with the award-winning safety app WalkSafe.
All venues which have completed the Licensing Security and Vulnerability Initiative (Licensing SAVI) accreditation are now listed on WalkSafe as safer spaces, encouraging a wider number of app users to find venues which have received a National Policing Award for Safety.
The accredited venues appear on the map marked by a Licensing SAVI icon. Visitors to these venues can be assured that staff in these locations are trained to support vulnerable customers, and that measures have been taken to ensure the venue is a safer place to visit.
Licensing SAVI was developed in partnership with the Home Office as a confidential self-assessment tool designed to help the owners and operators of licensed premises provide a safer and more secure environment for their managers, staff, customers and local communities.
The initiative supports all on-license premises types, including pubs, bars, clubs, restaurants, theatres, hotels, arenas, stadiums and more. With venues signing up across England and Wales, those out for a good time are never too far from a safer place to socialise.
The WalkSafe app is a free personal safety app providing safer space information to users on a handy interactive map. Clear icons for different safe space types make the app easy to use and navigate, alongside other useful features such as journey plotting and crime zone information.
To give users a further layer of safety on journeys, the app also includes the following sharing features:
* Safety Map - Helps people see the location of safety accredited venues across the UK, using interactive icons, so they can plan safer nights out.
* HomeSafe - Set a specific place and a specific time, and share your journey plan with loved ones. If users don't successfully complete your journey, loved ones are notified. (This feature is non-location sharing).
* Follow Me - Walking the dog? Going for a run? Just wandering? Follow Me allows you to start a journey with no destination in mind. Simply select a length of time to share your location for and select friends to keep you safe then you're good to go!
* WalkSafe - Going somewhere? WalkSafe journeys differ from HomeSafe by allowing users to share their location with trusted friends. Users' location will update in real-time allowing your loved ones to keep you safe on your journey.
Emma Kay, founder of WalkSafe, said: "We know 63% of women prefer to visit pubs, bars and restaurants that have safe spaces and our map allows them to see exactly where these venues are. Our new WalkSafe safe space icons are designed so that people can plan nights out knowing exactly what safety Initiatives venues offer."
Mark Morgan, Licensing SAVI, added: "We at Licensing SAVI are delighted to be collaborating with WalkSafe, who share our vision of having safer places. Our accredited venues have demonstrated that they've gone above and beyond in terms of operating practices to increase safety, security and reduce vulnerability. As such, it's only right that we subsequently progress all opportunities to highlight accredited venues to anyone who seeks to enhance their safety by using the WalkSafe app".
Visit the WalkSafe website to learn more