Canine Protective Armour
Canine Protective Armour
Monday, 04 September, 2023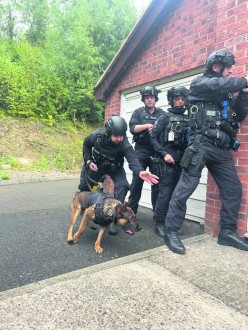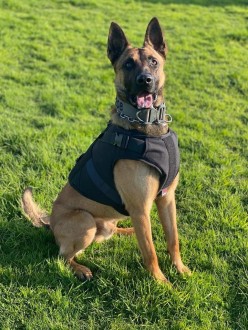 Leading body armour manufacturer Defence Composites have been developing and producing body armour for humans for over 20 years, offering its niche products and designs throughout the world. It was around 4 years ago when their MD, Craig Mills began to evaluate and discuss the possibility of canine protective armour.
To help develop the canine armour, Craig approached several dog handlers and trainers, military and police dog handlers regarding the functionality and level of protection they would like to see in a dog harness.
The designs for their Tornado and Hurricane harnesses are based on the operational experiences of dog trainers and together with feedback from extensive trials conducted by the UK Police Forces and HM Prison Service, this enabled them to manufacture a product of superior quality that is suitable for a wide range of users.
With the introduction of Finns-law (Animal Welfare (Service Animals) Act) in June 2019, the legislation makes it harder for those who harm service animals to claim they were acting in self-defence. Under the previous law, the attack on Finn could only be treated as criminal damage, now police dogs are recognised as an equal.
Now more and more police forces are rolling out protective harnesses for their dogs. One of the first forces to make the commitment were Staffordshire police.
After evaluating different types of canine harnesses, based on protection level, durability and design, Staffordshire Police chose the Hurricane harness from Defence Composites. Offering the same level of protection its fellow handlers are provided with (low barrelled ballistic, stab and spike) it is the leading harness in Defence Composites' catalogue. It is lightweight, flexible and allows free movement for the dogs in their day-to-day duties.
The head of the force's dog unit commented ''Providing personal issue body armour is the next step to ensuring we protect our dogs who face the same dangers as our police handlers, and, in fact, are more than likely the first ones running towards the threat. They now have the same level of protection in order to reduce the risk of serious injury or worse, being killed in the line of duty. This is a proud moment for me, and I am grateful for the investment by Staffordshire Police and hard work by the dog support officers in the work to find the right kit.''
The Tornado and Hurricane multi threat protection armour is now in use in over a dozen UK Police Forces and the Hi Viz harnesses are in service with UK Search and Rescue teams. Throughout the UK the canine protective harness is being introduced and Defence Composites have continued to develop and evolve them with police forces. They developed additional features with Merseyside police and Derbyshire police by introducing a MOLLE top for dog mounted cameras, when carrying out searches of buildings, and different handles for lifting and carrying the dogs.
Defence Composites will continue to work with police forces and prisons to develop the best product available for its canine section. When first developing the harnesses, their first objective was protection and functionality for the dogs. Defence Composites will be showcasing its canine harnesses and body armour at this year's International-Security-Expo at Olympia in London on the 26-27 September 2023.
• For more information visit: https://bit.ly/DefenceComp