Ask not what sport can do for you, ask what you can do for your sport!'
Ask not what sport can do for you, ask what you can do for your sport!'
Thursday, 11 February, 2021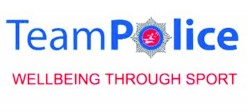 Ok I have shamelessly plagiarized and ruined that famous JFK quote! But this month we at Team Police, supported by Axon, are going to start a conversation on how we can all better promote physical activity for everyone in the policing family. Supporting the wider policing family is incredibly important and has been recognised in the Police Covenant as critical to the morale, motivation and wellbeing of our police; this includes serving and retired officers, staff and their families.
Enabling sport for all is a key aim for Police Sport UK and TeamPolice. We at TeamPolice continue to promote our mission and bring onboard business and supplier partners – even in these challenging times. Axon is one of those valued partners and we are excited that Axon has agreed to be our key sponsor for the next webinar on 23rd February. To register click here
Mike Ashby-Clarke, Country Manager of Axon UK, says: 'We are very pleased to be sponsoring TeamPolice through sports as they play a pivotal role in supporting the health and wellbeing of all members of the Police. Due to the Pandemic, this is even more important and we are happy to play our part in the great work that they do.'
Ian Campbell, Executive Officer of PSUK said, 'PSUK is delighted that AXON has agreed to support the February webinar. The event will give attendees a chance to join in conversation with senior officers on how physical activity can be better promoted to the policing family.'
This webinar will start the conversation on how we can promote physical activity to the policing family and we are delighted that Martin Hewitt Chair of the National Police Chiefs Council and Rachel Kearton Deputy Chief Constable Suffolk Police are able to join us on the panel. Also contributing to the event are Peter Darling – South Yorkshire and Lisa Smith – West Midlands to give that important and vital local context, and to help the conversation going forward about promoting sport for all. It will be a great conversation – so why not come and join us!
We know that serving in the police is demanding, not just on those serving but also on their families, and understand that without support from their family, policing would be even more difficult. Recognising this is one thing, doing something about it is quite another. Physical activity has been proven to improve health and wellbeing so our focus is on helping our police family become more active. Police Sport UK already plays a pivotal role in supporting this aim with its fantastic network of local force sport and social clubs but we would like to keep the momentum going and see what TeamPolice can do to help.
So let's put the January blues behind us and look forward to spring, lighter sunnier days and together getting just a little bit fitter!
If your business would like to become part of the conversation and engage with the service through sport, email info@teampolice.uk.