Enforce Tac 2019
Enforce Tac 2019
Wednesday, 19 December, 2018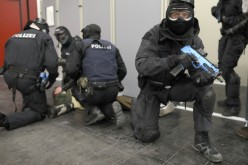 International security experts meet at Enforce Tac in Nuremberg, Germany, at yearly intervals to discuss the latest developments and products in the segments of law enforcement, security and tactical solutions.
The exhibitors at Enforce Tac 2019, the International Exhibition & Conference – Law Enforcement, Security and Tactical Solutions, show everything for command, control and operational equipment used by security agencies: The latest firearms, high-quality police supplies, clothing, ballistic accessories, optronics. communication systems, vehicles and training.
Enforce Tac opens its doors in Nuremberg, Germany, on 6 – 7 March 2019. U.T.SEC 2019 – Summit for Drones, Unmanned Technologies & Security, is held at the same time as Enforce Tac.