Chief sets date
Chief sets date
Wednesday, 07 November, 2018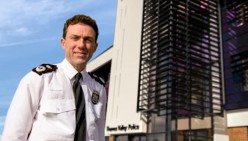 Thames Valley Police Chief Constable Francis Habgood announced last month that he is to retire.
He will retire from his role as Chief Constable at the end of March 2019, after four years in the post, 15 years within the force and more than 32 years in the police service.
In his statement Chief Constable Habgood said: "Next year I will have completed over 32 years'service in policing, 15 years of those as a chief officer in Thames Valley Police.
"At the end March 2019 my term as Chief Constable concludes and I have decided that it is the right time for both me and the Force that I retire."
Chief Constable Habgood was appointed to the post in April 2015.
He joined Thames Valley Police in January 2004 as Assistant Chief Constable, where he covered all portfolios, including Crime, Operations and Local Policing. During this time he also spent three months helping to train future Chief Officers as a syndicate director on the Strategic Command Course.
Then, in October 2008 he was promoted to Deputy Chief Constable.
Before Thames Valley Police, Chief Constable Habgood joined West Yorkshire Police in 1987, where he worked in a variety of operational roles.
Chief Constable Habgood is a member of the NPCC Workforce Co-ordination Committee and leads on Pay and Conditions. He chairs the Protect and Prepare Board and is a member of the Counter Terrorism Coordination Committee. He also chairs the police committee that oversees the introduction of the Emergency Services Mobile Communication Programme. He sits on the Advisory Board for the Oxford University Centre for Criminology and is a visiting fellow of Oxford University's Lady Margaret Hall.
In 2012, Chief Constable Habgood was awarded the Queen's Police Medal.
"I will always love policing and it's been an honour to serve the public, most recently as Chief Constable of Thames Valley Police," he added.