GMP Superintendent wins national award from colleagues
GMP Superintendent wins national award from colleagues
Wednesday, 12 September, 2018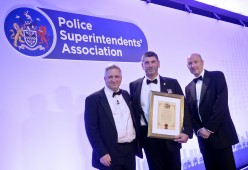 A senior Greater Manchester Police officer who led some of the forces most serious investigations has been given a prestigious award by his staff association.
Temporary Chief Superintendent Simon Barraclough, who is Head of Investigations in the North West Counter Terrorism Unit, received the President's Award for Excellence in Policing at the Police Superintendents' Association (PSA) annual conference on Tuesday 11 September.
Simon joined GMP in 1988 and has served most of his career with the force. Between 2005 and 2007 he volunteered to serve with PSNI, where he mentored and trained Senior Investigating Officers and headed the East and South Belfast Serious Crime Branch.
A senior officer during the investigation into the Manchester Arena terrorist attack and the murders of PCs Fiona Bone and Nicola Hughes, in 2004 Temporary Chief Superintendent Simon Barraclough led a team of officers in Thailand after the Boxing Day tsunami.
Working in temporary mortuary facilities in hot and humid conditions, the team worked on the identification of more than 2,000 victims of the disaster.
He also led the investigation into a series of poisonings at Stepping Hill Hospital, one of the biggest and most complex inquiries in the history of the force.
It led to the conviction of a nurse who received 25 life sentences, and changes in national policy on nursing registration.
Chief Supt Barraclough said: "I am really proud to have been recognised for this award by my colleagues in force and by the Association.
"It has been my privilege to have worked with some of the finest police officers in the country throughout my career, and to have led teams of exceptional people dedicated to serving the public and keeping people safe."
Chief Superintendent Neil Evans, chair of the GMP branch of the Association, said: "Simon has been an exemplary police officer throughout his whole career.
"The force has entrusted him with some of its most difficult and challenging investigations, and every time he has gone above and beyond in his dedication to the task. For me, he is the embodiment of excellence in policing."
GMP's Deputy Chief Constable, Ian Pilling said: "Simon should feel very proud of this award which is testament to his continued contribution and commitment to Greater Manchester Police. All of us at GMP are delighted for Simon and an award that is fully deserved."
PSA President Chief Superintendent Gavin Thomas said: "The commitment and expertise of colleagues such as Simon are what make British policing the best in the world and I am delighted to recognise his outstanding contribution to the service with this award."
The President's Awards, sponsored by Police Mutual, are given annually and are judged by the President and Vice President of the Association. They recognise the achievements of Superintendents and Chief Superintendents and the contribution they make to policing.