A greener police fleet
A greener police fleet
Wednesday, 12 September, 2018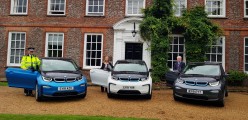 Sussex PCC Katy Bourne has announced that electric cars will be used for non-response, unmarked police vehicles across Sussex and Surrey.
30 BMW i3s per force are set to be deployed on division and in departmental unmarked roles, to replace costly fossil-fuelled vehicles, which had already been identified for replacement during the 2018/19 financial year.
Mrs Bourne is the driving force behind this move towards a greener more efficient police fleet in Sussex. She says the switch will initially save up to £120,000 over five years, just from the reduced fuel, servicing, maintenance and repair costs.
She said, "I am pleased to see Sussex Police and our partners in Surrey Police taking this innovative step towards cutting their carbon footprint by introducing a more energy-efficient fleet of vehicles.
"As PCC, I have and will continue to explore every opportunity to deliver effective policing whilst reducing costs to local taxpayers. Using these electric cars for certain kinds of police work will not only help to save money but will also be better for our environment, reducing our co2 emissions by more than 470 tonnes over the next 5 years.
"As the vehicles have been bought at a large discount it reduces the depreciation to virtually zero and the price of fuelling is less than a third of a conventionally powered pool car. We are spending public money so it is vitally important to me that the force find pioneering new ways, like this one, to transform the way things are done whilst still keeping pace with operational requirements."
The vehicles can be driven for more than 100 miles between charges which mean they could be useful on day-to-day policing activities, such as being used by officers visiting victims or witnesses to take statements, as part of door-to-door inquiries or by crews on short patrols.
Assistant Chief Constable Steve Barry said: "With an ever-increasing demand to meet future policing needs, these electric vehicles will enable our staff and officers to carry out their daily tasks while also reducing emissions and running costs.
"Modernising policing is a key component of our 18-22 Transformation Plan, and this investment demonstrates our determination to push forward with substantial change, collaboration and technology-driven improvements.
"The BMW i3s will be assessed following a three-year pilot scheme."