Police Mutual commits £100,000 to community initiatives for 2016.
Police Mutual commits £100,000 to community initiatives for 2016.
Thursday, 18 February, 2016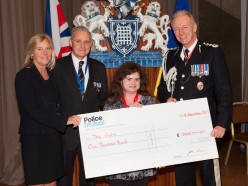 (L-R) Jo Beard (Police Mutual), Angus Boa (nominator), a service user from The Gate, Met Commissioner Sir Bernard Hogan-Howe
Police Mutual commits £100,000 to community initiatives for 2016
Further to having supported 152 projects with £50,000 to across all 43 Forces in 2015
Police Mutual, which has been helping serving and retired Police Officers, Staff, Specials and their families with their finances for over 140 years, has announced that Force for Good, its first national community sponsorship programme, will award £100,000 to local projects in 2016 across two tranches; the first in February, the second in September. This announcement follows Police Mutual having given £50,000 to 152 successful local projects throughout the country in autumn 2015.
Whilst Police Mutual is not-for-profit it is commercially run, and its financial strength and performance allows it to give back to its key stakeholder group, the Police. In 2011 it launched the Police Mutual Foundation to support the wellbeing of the wider Police family. The 2015 Force for Good initiative, which is funded by the Police Mutual Foundation, received 1,263 applications nationwide following its launch on 1 September 2015.
Stephen Mann, Chief Executive of Police Mutual, explains: "Force for Good gives the Police Family the power to identify and reward causes they feel improve lives within their local communities. We were staggered and delighted by both the quantity and quality of entries received, and are now delighted to be launching the second phase of the initiative, and looking forward to the third, which will follow later this year."
February 2016 nominations
The first 2016 nomination window runs from now until 29 February. Police Mutual invites the Police Family to nominate good causes in their local area that enhance the lives and wellbeing of the local community. Applications for Force for Good funding can be made for any amount up to £1,000 to support a local initiative in their community.
See http://www.policemutual.co.uk/forceforgood for further details and to make a nomination, and
http://www.policemutual.co.uk/campaigns/terms-force-for-good for full terms and conditions.
2015 winners
Members of the Police family nominate causes that enhance the lives and wellbeing of their local communities, some of which they know through their local policing work.
One example of this is Lancashire Police Sergeant, Helen Dixon, who nominated the Sir Tom Finney Soccer Centre in autumn 2015. Her team of Early Action officers regularly refer rehabilitating young offenders to the centre to offer them a development opportunity and to prevent them from entering the criminal justice system. The Preston-based initiative received a £500 grant.
Hammersmith and Fulham-based initiative The Gate received £1,000. The Gate is a Community Arts Centre offering a rich range of programmes and activities for anyone with a learning disability, including music sessions, art, literacy and numeracy, song writing and drama therapy. "The £1,000 grant from Police Mutual will be used to buy essential new equipment as well as to train staff in using that equipment to support The Gate's friendly 'can do' environment that fosters confidence and self-esteem, which in turn increases skill development," commented Metropolitan Police Officer, Detective Constable Angus Boa, who nominated The Gate.
2015 applications were received and grants awarded for a huge breadth of community initiatives spanning youth groups and activities; support for the vulnerable; gardens, farms and allotments; scouts, guides and cadets; crime prevention and community activities and facilities. The Force for Good grants are now being put to a range of uses including sporting, musical and outdoor activity equipment; facility hire costs for youths and the homeless; Christmas parties and gifts for vulnerable groups; gardening tools; and a defibrillator to support an isolated rural village with an ageing population.
In 2015 funding allocations were made in every Police force area in the country, ranging from a maximum of £1,000 allocated to any one project, to a minimum of £200 awarded to any one project. The top five forces for applications received were West Midlands (116); Police Scotland (107); Metropolitan (74); Sussex (72) and Merseyside (56). West Midlands and Police Scotland also topped the number of grants received with 10 each, followed by Metropolitan with nine and North Wales, Lancashire and Merseyside all with eight.