Police officers to remember fallen colleagues
Police officers to remember fallen colleagues
Monday, 20 July, 2015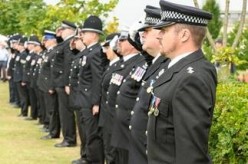 Members of the police family are invited to attend the annual Care of Police Survivors Service of Remembrance on Sunday 26 July. Some 500 relatives of police officers killed in the line of duty, colleagues and representatives from forces across the UK will gather for the event.
During the service at the National Memorial Arboretum in Staffordshire, the Roll of Honour of police officers who have died on duty over the last 12 months will be read out. Readings will be given by family members of fallen officers before force representatives lay wreaths to remember the thousands of officers who have died in the line of duty over the years.
Denis Gunn, President of COPS, said: "Once again the Blue Knights and the Police Unity Tour will ride in to the Arboretum prior to the service so please welcome them and show them our appreciation for the magnificent fund-raising both groups do for COPS."
The annual weekend is always well attended by chief officers but Care of Police Survivors would love more front line officers to come and show their support at the Sunday service. Last year a guard of honour was formed by serving officers for families of those who have died on duty to walk through.
Jan Berry, Chairman of COPS, said: "The Service of Remembrance is a chance for us all to remember those no longer with us – and also to celebrate the memories we have of them. It is a culmination to a weekend of 'healing, love and life renewed' and is all part of the COPS mission – to help rebuild shattered lives. We would love to see more officers from all ranks in their uniforms 'on The Beat'. That sort of visible display of support for survivors is priceless and is always appreciated."
The Sunday service – which begins at 11am - will be held at the conclusion of a weekend organised by COPS for the families of those officers who have died on duty.