Canadian Police Officer Brothers to run for Parkinson's UK
Canadian Police Officer Brothers to run for Parkinson's UK
Tuesday, 16 June, 2015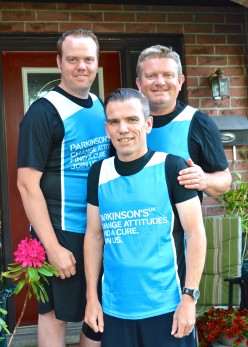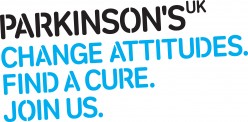 Dave (41), Andrew (38) and Ken (33) Poustie from Canada will be flying to Glasgow and lacing up their trainers to take part in the Great Scottish Run on 4 October 2015 to raise funds for Parkinson's UK.
The brothers will be running 13.1 miles in memory of their dad for their father David, originally from Dumbarton, who was diagnosed with Parkinson's at the age of 53. Andrew explains: "Our dad was a very active man, who played soccer at a high level. He was very athletic and took care of himself. When he was diagnosed, we saw Parkinson's rob our father of the physical ability he once had, and stopped him from doing the things he loved. Our mum had to take on the role of a caregiver to dad as the disease progressed. It really prevented them from enjoying their time together. Our dad passed away in 2012 at the age of 59. We are raising funds for research. We are coming from Canada to do this run and believe research anywhere in the world to find a cure to this disease benefits Parkinson's patients all over the world"
Brothers Dave, Andrew and Ken have a family connection with Scotland which forms part of their reasons for taking part in the GSR. Andrew advises: "I had set a goal of running a half marathon this year after quitting smoking and making some lifestyle changes. I was inspired by my brother Ken who had run the Chicago Marathon and raised money for Parkinson's, to do it as a fundraiser for Parkinson's. My mum suggested I run in Glasgow and make a vacation out of the run. She thought it would be a great tribute to my dad (who was from Dumbarton) if the three of us ran the half marathon raising funds for Parkinson's in honour of our dad. We have a strong connection to Scotland. Dave was born there, both my parents are from there and we still have family throughout Scotland. This will be our 3rd trip to Scotland in 3 years.
Dave said "My brother Andrew suggested we run this together and I thought the trip was a great idea and motivated me to train! My 12 year old son is joining us and running the 2.5 km run on the Saturday. Anything we can do to honour our Dad and to help prevent other families from going through what we went through is something that interests all of us.
Ken explains "I have run a few half's, and one full marathon and jumped at the opportunity to run this one with my brothers. I am excited to run this race as a family and think that running it in Glasgow is a very fitting tribute to our father who grew up such a short distance away.
All three brothers serve with Police Services in Canada. Andrew is a Detective Constable with The Hamilton Police Service, working in the Investigative Services Division; Dave is a Sergeant with the London Police Service and Ken is a Constable with the London (Ontario) Police Service. Each of their respective services has supported the brothers by accommodating their leave requests to run in Glasgow, by assisting with health and fitness resources, training with them and by donating to their challenge.
Andrew, Ken and Dave Poustie have decided to run on behalf of Parkinson's UK for several reasons. "We believe that any way we can contribute to finding a cure for Parkinson's is a worthwhile endeavour. Parkinson's UK is providing us with running vests which for us is big because we have 13.1 miles to raise awareness of the charity by wearing these".
"Our family has been touched by the devastating effects of Parkinson's disease. We have selected Parkinson's UK as our charity of choice to raise awareness of the disease and much needed funds for research, and to help those currently living with Parkinson's. We are doing this because Parkinson's touched our lives in a very negative way. We hope that by doing this we can bring about positive awareness and raise money to contribute to the cure. We are proud of our Scottish heritage, and love the city of Glasgow. We can't think of a more picturesque place to run a race together". Ken adds "I am also looking forward to a cold pint following the race at one of the many fine pubs in Glasgow".
"I am very proud of my brothers for taking on this challenge. 13.1 miles is not something to be taken lightly and I know our father will be at the finish line in spirit".
Paul Jackson-Clark, Director of Fundraising at Parkinson's UK, said: "I'd like to wish Andrew, Ken and Dave the very best of luck with their challenge. I hope the brothers' story will inspire others to sign up for the Great Scottish Run or one of our other events that happen throughout the year.
"As the UK's Parkinson's support and research charity we're leading the work to find a cure, and we're closer than ever. But our work is dependent on donations."
Andrew, Ken and Dave are aiming to raise $3500 for Parkinson's UK. To sponsor them visit their online giving page at: www.justgiving.com/Andrew-Poustie/
The funds raised by the brotherswill allow Parkinson's UK to continue with its vital research work to find a cure, and improve the lives of the 127,000 people living in the UK who are affected by Parkinson's.
For further information on events taking place in the local area visit www.parkinsons.org.uk/events or email fundraising@parkinsons.org.uk