FREE CONFERENCE: Steering Clear of Cycle Crime
FREE CONFERENCE: Steering Clear of Cycle Crime
Wednesday, 10 June, 2015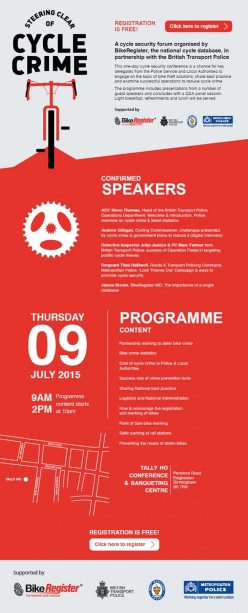 A CYCLE security forum is being organised by BikeRegister, the national cycle database, in partnership with the British Transport Police.
Steering Clear of Cycle Crime is a free one-day cycle security conference, which takes place on 9thJuly at the Tally Ho Conference Centre in Birmingham. It offers a chance for key delegates from the Police Service and Local Authorities to engage on the topic of bike theft solutions, share best practice and examine successful operations to reduce cycle crime.
The programme will feature latest bike crime statistics and details on the cost of cycle crime to Police and councils. Delegates can also find out more about the role that registration and marking of bikes has played in lowering bike theft, and how Point of Sale bike marking by retailers could be further encouraged.
There will be presentations from a number of guest speakers including John Justice from BTP, Titus Halliwell from the Met; and Dave Williamson from Durham Constabulary.
For more information contact Nick Roach, Police Liaison at Selectamark, which owns and maintains BikeRegister.
Email: nick.roach@selectamark.co.uk
Or register here for free: https://www.eventbrite.co.uk/e/steering-clear-of-cycle-crime-conference-2015-tickets-4603800090