The delayed Final (Sponsored by Police Credit Union) from 2014 between Scotland and Surrey took place at Ockbrook & Borrowash CC on Tuesday 6th May and saw Surrey triumph by 4 wickets
The delayed Final (Sponsored by Police Credit Union) from 2014 between Scotland and Surrey took place at Ockbrook & Borrowash CC on Tuesday 6th May and saw Surrey triumph by 4 wickets
Monday, 11 May, 2015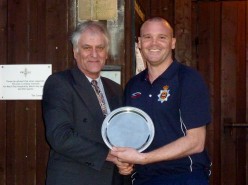 Ben West (Surrey) presented with Giffard Plate by Peter Evans (CEO Police Credit Union)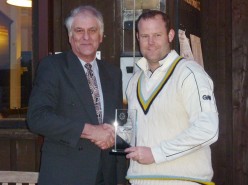 Giffard Plate Man of the Match Dave Carlyle (Police Scotland) presented by Peter Evans (CEO Police Credit Union)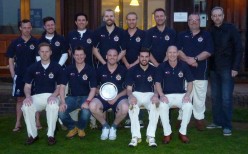 Surrey - Giffard Plate Winners 2014
The forecast was gloomy but despite expected overnight rain the surface was fast drying due to some gusty conditions and some unexpected sun! Surrey won the toss and opted to have a bowl.
Scotland opened with Dalgleish and Foster (17) who held firm until the 13th over when the latter was run out with the score on 31. Weir (1) followed soon after which brought debutant Carlyle to the crease who put on 50 with Dalgleish in 6 overs taking the score to 90 before Dalgleish (27) was trapped lbw by Chant.
Rodger then joined Carlyle in a 4th wicket stand worth 127 which saw them find the boundary with regularity, and other than a reasonable offering to backward point both found gaps in the field rather than going the aerial route. The fluent Carlyle had quickly gone to 80 when Rodger (54) departed having edged one to short third man or thereabouts, and Palin (0) followed 2 balls later in the same spell from Adkin.
Carlyle was not going to be denied his maiden 100 and pushed a couple of singles in the 43rd over to get over the line. A couple of lusty blows from Bryson (9) and Rana (6) took the score to 242 which looked a tough ask as weather closed in.
After a sumptuous tea played resumed and what a start for Scotland as Surrey lost West first ball caught at mid-on by the jubilant Greyvenstein only for rain to fall and the cause a delay.
After the break Surrey rebuilt with Adkin and Patey taking the score to 40 from 6 overs.
Patey's (3) support role ended when Carlyle took a smart catch at point and Adkin was joined by Clark. They maintained the tempo reaching 104 before Clark (31) fell to an excellent catch at long on.
Intermittent rain threatened the game in the 17th over with a result in the balance but again it brightened and Surrey resumed eventually losing Adkin (50) to a fine catch by Dalgleish in the deep.
Another heavy shower delayed proceedings but the sun made a welcome reappearance to enable a resumption. Surrey faltered as Warn and Marshall toiled for a spell. Warn (5) eventually fell to Rodger bringing Meyer to the middle and he injected much needed momentum.
Marshall (64) went on the offensive including 3 maximums before he too fell to another assured catch in the deep. Meyer (35) continued to make inroads assisted by McDermott (18) enduring the fading light until 20.39hrs to complete the run chase with 5 overs to spare.
Ben West received the Giffard Plate from Peter Evans (CEO Police Credit Union). Despite some good performances from Adkin (50 & 2-35) Chant (2-30) and Marshall (64) the Man of the Match, as adjudicated by the 2 umpires, went deservedly to Dave Carlyle for his 100 (on debut) for Police Scotland
Ockbrook & Borrowash CC were perfect hosts and both sides played out an excellent final tie in the right spirit