Police get lesson in the art of deception and interrogation
Police get lesson in the art of deception and interrogation
Wednesday, 06 May, 2015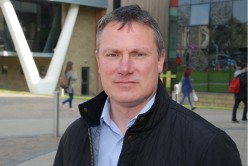 Jason Roach
New research into 'self-selection policing' and 'street psychology' draws police interest in the UK and the USA
A UNIVERSITY of Huddersfield criminologist is researching street-smart ways for police officers to identify offenders. His ideas are soon to appear in book form and have recently met with an enthusiastic response from audiences – including law enforcers – in California and the UK.
There are several strands to the research carried out by Dr Jason Roach (pictured right), who has a long record of working closely with police forces. One of which is "self-selection policing", which shows how the investigation of minor infringements can lead to the detection of major offenders. Another topic is that of street psychology, which can be used by beat officers to establish quickly that a suspect is lying.
Dr Roach has forthcoming books that cover both of these topics. One is written in tandem with Professor Ken Pease, now of Loughborough University, who founded the University of Huddersfield's Applied Criminology Group (now the Applied Criminology Centre) in the 1990s. He established the concept of self-selection policing when he carried out research in Huddersfield into cars parked illicitly in disabled bays.
"When number plates were checked, it was found that 25 per cent of them were registered to people who would have excited police attention, had their whereabouts been known!" said Dr Roach, who carried out research himself in the driveway of a prison, when police checked the cars and documents of visitors.
"We identified that some of the people visiting were known offenders, which is no surprise, but some were actively committing crime en route. Some had drugs or stolen credit cards in the cars and many were committing minor offences such as failure to have insurance. These are offences that may uncover or identify serious offenders."
Self-selection and street psychology
Dr Roach says that the self-selection approach helps researchers learn more about criminal careers and how they unfold. The findings are at odds with the popular idea that criminals restrict themselves to a single area of activity.
"The general public, and the police to some extent, see serious offenders as a homogenous group that only commits serious offences, so that a violent offender will walk past an open car window with a laptop inside and say 'I don't do stealing from cars, I just do violence' and walk on – which is a ridiculous notion.
"But we like to almost romanticise the specialised offender, such as getaway drivers or safe crackers. If that was ever true, it certainly isn't now. Offenders are versatile," said Dr Roach.
He has also been working on "street psychology", a term that encompasses ways in which police officers can rapidly discover whether a suspect is lying. Asking for dates of birth or addresses is a key technique and this was tested during experiments in which students were told to provide false addresses. They could do so relatively easy, although the fake details would not be completely random.
It was found to be almost impossible to generate a fake postcode that actually exists and a modern police officer equipped with a portable device can rapidly check it out. If it turns out that a person is lying, then the officer can ask why.
Warm response from the States
Dr Roach has authored a book – soon to be published – on street psychology and he spoke about the subject when he delivered guest lectures at two leading Californian universities, UCI and Alliant International. The award of a Santander Research Grant meant that Dr Roach could be joined by two of his doctoral students, ex-police detective Max McLean and postgraduate Ashley Cartwright, in order to help build up contacts.
Ties have been developed between the University of Huddersfield's Crime and Policing Research Group – which Dr Roach heads – and the California School of Forensic Studies, based at Alliant International University. It will lead to student exchanges.
Dr Roach found a ready response to his ideas when he lectured in California. The same went for his talk on street psychology at the annual conference of the UK's Society of Evidence Based Policing, held in Manchester in April.