Lancashire officers Run To Remember fallen GMP officers
Lancashire officers Run To Remember fallen GMP officers
Wednesday, 12 February, 2014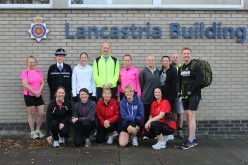 67 POLICE OFFICERS from Lancashire Constabulary will be taking part in a team run as part of their collective charity efforts in memory of fallen Greater Manchester Police officers PC Nicola Hughes and PC Fiona Bone.
The officers will be setting off from Lancashire Constabulary's Headquarters in Hutton on Sunday 16 February. This is part of Lancashire Constabulary's contribution to the Run To Remember challenge, which challenges at least ten officers from every police force in the country to run two miles every day for 125 days between 1 December 2013 and 4 April 2014. All funds raised by the officers taking part will then be split between the charitable organisations Victim Support, Care of Police Survivors and the North West Police Benevolent Fund.
The Run To Remember Challenge was set by PC Nicola Hughes' father, Bryn Hughes, to aid the PC Nicola Hughes Memorial Fund, which he hopes will establish a lasting legacy to Nicola. Once the Run To Remember Challenge has been completed, Bryn and Robert Hughes will be departing for the North Pole, where they will be taking part in the North Pole Marathon.
PC Eddie Baldwin, who is co-ordinating Lancashire Constabulary's runners, said; "It demonstrates the comradeship of police officers that sixty-seven officers from across the county have come together to remember PCs Hughes and Bone in this way and raise money in their memory.
"This money will go to the organisations that aided Nicola and Fiona's families in the wake of their tragic deaths. These organisations have also come to the aid of the families of Lancashire's fallen police officers in the past and also do fantastic work with the victims of crime, and so, I would strongly encourage everyone to donate so these three organisations can continue to offer much-needed support to those who need it."