National road safety award
National road safety award
Friday, 07 February, 2014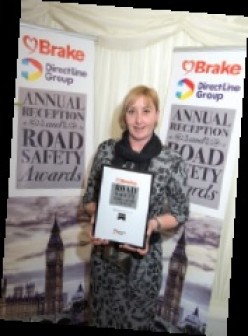 Sharron Underwood, a Police Community Support Officer (PCSO) for Warwickshire Police, has received a national award recognising her contribution to tackling devastating young driver crashes through engaging young people in road safety education.
Sharron received the award for Road Safety Educator of the Year at road safety charity Brake's annual reception at the Houses of Parliament on Wednesday, January 15.
Sharron began her work after attending a 2young2die course run by Brake in January 2009 and has been an active ambassador for the project ever since.
The project aims to help young people keep themselves and others safe on the roads, and speaks out against dangerous driving to prevent catastrophic crashes.
Young drivers are involved in a huge proportion of serious road crashes: one in eight licence holders is under 25, yet one in four fatal and serious injury crashes involves a driver of this age.
Over the past three years Sharron has delivered interactive workshops, seminars and one-toone sessions to more than 1,000 students, mainly engineering apprentices at the Trident Technology and Business Centre at
Warwickshire College in Leamington. Warwickshire Police has credited her with a significant decrease in the number of road collisions involving students from
the college.
Sharron's sergeant and inspector were so impressed with the success of her workshops that they asked her to train other Warwickshire Police Community
Support Officers to deliver them, including all Safer Schools Officers.
More recently, Sharron has begun to deliver one-to-one road safety sessions to young men convicted of driving offences through referral from the Youth Justice
Service. On 24 April 2013, Sharron was awarded a Chief Constable's Commendation for the dedication and commitment she has shown to young driver education, stating that her "dedication, passion and ultimate professionalism has undoubtedly contributed to road safety".
PCSO Sharron Underwood said: "I am very proud to receive this award from Brake, and to be part of the 2young2die project."