Final arrest on last patrol
Final arrest on last patrol
Monday, 12 November, 2012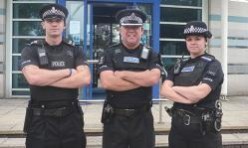 Left-Right Sgt Tom Stokes, Chief Supt Tim Stokes and Pc Carly Stokes


A long-serving senior Essex Police officer has retired from the force but not before making a final arrest.

Retired Chief Supt Tim Stokes, who was joined by his children PC Carly Stokes and Sgt Tom Stokes, for a final patrol in Clacton, arrested an 18-year-old man on suspicion of theft on Wednesday, October 3, 2012.

Both his first and final arrest ended up being for theft proving he really had come full circle. Mr Stokes walked his first beat in Clacton with his two children who have followed him in to the job.

Tim Stokes said: "Back in 1982 Clacton was where I started my first patrols as a constable and on my last day I was always determined to go back out on patrol where it all started for me. "The Stokes family goes on in Essex Police. My children are both dedicated officers and are intent on a career with Essex Police."

Pc Stokes, 29, is based at Colchester, while Sgt Stokes, 27, is a firearms officer at Stansted Airport. Both surprised him at a leaving presentation held at Boreham before joining him for his final patrol.

Mr Stokes, 54, joined Essex Police in 1982 and during his 30 years' service worked in Clacton, Colchester, Braintree, Harlow, and Chelmsford. A final send off was held at Operational Policing Command (OPC) in Boreham where Mr Stokes held his final role.

Commenting on his retirement plans, Mr Stokes said: "I intend to travel and make the most of my retirement and having worked hard for the last 30 years I intend to get some decent sleep!"