Rescue dog's success
Rescue dog's success
Wednesday, 07 November, 2012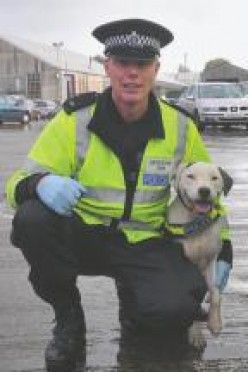 PC Lee Webb and Kos


Kos the rescue dog is the first of his breed to be trained to sniff out drugs, money and firearms in Avon and Somerset.

The Staffordshire Bull Terrier and
Whippet cross was living at an RSPCA
centre in Somerset, up until around 18 months ago when he was donated to Avon and Somerset police.

Now, with training from PC Lee Webb, he is out on the front-line gathering evidence against criminals. On his first day on the job, he found a lump of heroin in a car stopped in central Bristol.
PC Webb, who is based at Bower Ashton, said: "Like many breeds, Staffies can be tarnished with a bad reputation, which is unfair. But Kos is the gentlest and kindest of dogs. He's always been very playful and he absolutely loves the game of searching. "It didn't take any longer to train him than the Spaniels we have, and some of those are also rescue
dogs."

The more common breeds for police sniffer dogs are Springer Spaniels or Weimeraners.