Police commendation for SmartWater specialist
Police commendation for SmartWater specialist
Wednesday, 07 November, 2012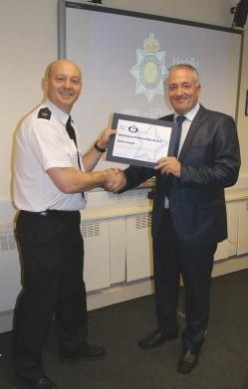 Steve Lloyd being presented with the Chief Constable's award by Superintendent Jon Burley, at Blackwood Police Station



A member of SmartWater Technology Ltd's Special Support Team, has been honoured by one of the police forces he works with, for his commitment in supporting its fight against metal theft.

Steve Lloyd was presented with a commendation from the Chief Constable of Gwent Police, Carmel Napier, for his key role in tackling the disruption and distress caused by the ongoing problem. The presentation was made at Blackwood Police Station, near Caerphilly. It recognised risk management specialist Steve's role in the "No ID, No Cash" campaign to encourage scrap metal dealers to insist on seeing ID from people they are buying from.

The initiative was launched two-and-a-half years ago when SmartWater's Special Support Team, led by Steve, conducted both overt and covert operations focusing on the scrap metal
industry in the Caerphilly area. The success of that operation resulted in the "No ID, No Cash" approach being adopted across the whole of Gwent. It has since been incorporated into a national Police-led metal theft campaign called Operation Tornado, which sees police forces throughout the UK putting resources into fighting metal theft in collaboration with other relevant agencies and the scrap metal trade.

In making the award, the Chief Constable described how immensely grateful she was for Steve's continued efforts to make the citizens of Gwent feel protected, safe and reassured. Steve is now deeply involved in risk management work across the whole of South Wales and SmartWater Technology Ltd feeds into the PanWales group on metal theft. This includes having input into the deployment of SmartWater's range of uniquely-coded forensic products and devising strategies to aid the capture and conviction of serial metal thieves in partnership with the police.

SmartWater's chief executive, Phil Cleary, said: "We're extremely pleased for Steve and proud of his achievement. This success is a testament to the fact that our team is focused on working with communities and partner agencies in order to achieve the very best results. We're a business, of course, but this is not just about business, it's about being a committed part of something bigger and Steve has earned this accolade for his knowledge, enthusiasm, hard work and commitment to the community."

The presentation of the commendation was made to Steve at a ceremony in which the achievements of police officers, civilian police staff and other members of the public were all recognised. Steve said: "It is a tremendous honour to receive a commendation from the Chief Constable - and it was certainly a surprise. However, it's not a signal to rest on our laurels and the work goes on to put a stop to the problem of metal theft which blights many
communities nationwide."