In memory of WPC Mandy Rayner
In memory of WPC Mandy Rayner
Wednesday, 07 November, 2012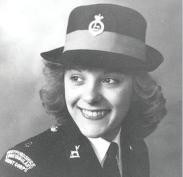 WPC Mandy Rayner the first and youngest female police officer to be unlawfully killed in the UK while on duty


More than 100 people attended a ceremony at Hertfordshire Police Headquarters on Saturday 13th October marking the 30th anniversary of the death of Hertfordshire WPC Mandy Rayner.

At the age of 18, Mandy was the first and youngest female police officer to be unlawfully killed in the United Kingdom while on duty. Hertfordshire Constabulary's Chief Constable Andy Bliss, the High Sheriff of Hertfordshire, and other senior police officers were among those who attended the ceremony at the Memorial Gardens at HQ in Welwyn Garden City.

Mandy's mother Sylvia Rayner, sister Beverley Kukic and Beverley's husband Stefan were also in attendance, along with a number of former cadets who were in Mandy's cohort and who have stayed in touch following her tragic death.

Force chaplain Reverend Tony Ruffell led a short service and a bench dedicated to Mandy's memory was unveiled in the gardens before wreaths and flowers were laid on it. The Chief Constable, Mr Bliss, told those in attendance: "[Mandy"> was one of a small number of women who had the courage, the ambition and the character to join what was seen then by many as a man's world. "Many have followed in her footsteps - some perhaps inspired by her leadership and by the sacrifice she made.

"If she is looking down today I hope she is smiling to see female officers giving no ground to their male counterparts and proud to see the quiet revolution that women like her have brought to our Service."

He added: "The dedication of a bench here in the memorial garden of the Police Headquarters will be a constant reminder to visitors and colleagues alike of the ultimate sacrifice that Mandy made as a police officer doing her duty: fighting crime and keeping people safe."

On 13th October 1982, Mandy, who was based at Hitchin Police Station, died following a road traffic collision. The police car she was in was hit by another car, which had earlier failed to stop. The driver of the other vehicle was later convicted of manslaughter. Roy Bowdery was her tutor constable at the time and was also injured in the collision. He co-organised the event with Vojislav Mihailovic, from the Police Federation.