Soaring to new heights
Soaring to new heights
Thursday, 25 October, 2012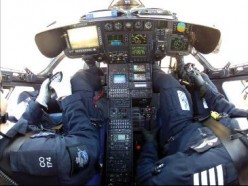 Inside the cockpit of a Met helicopter


The beginning of October saw officers from the Met's Air Support Unit land in Regents Park in a unique opportunity for London residents to meet with them.
With the help of the event the unit's twitter account @MPSinthesky, reached the
dizzy heights of 20,000 followers.

People had come from across London to meet with the crew, some were twitter followers, others were local residents but all were keen to learn more about what makes the crew and the aircraft tick. Parents brought their children along and many got to see the high tech equipment onboard that helps catch criminals and provides invaluable support to officers on the ground. Some lucky visitors even got to sit in the cockpit.

The visit created a real stir especially in the twittersphere where many visitors posted pictures of the aircraft and the crew along with comments. Police Sergeant Richard Brandon from the Air Support Unit said: "As interest has grown we thought that it would be a good idea to host an event in central London where the public could see the aircraft and speak to us and it was really popular. In fact it was so well received that our twitter following has soared to well over 20,000."

The unit currently operates three Eurocopter EC145 helicopters on a 24-hour basis from the air base in Essex, flying an average of over 275 hours per month.