A team of Romanian Police Officers are spending the week working with officers from Brent Borough
A team of Romanian Police Officers are spending the week working with officers from Brent Borough
Monday, 10 September, 2012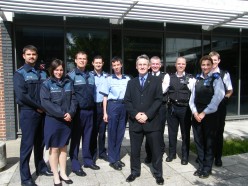 A team of Romanian Police Officers are spending the week working with officers from Brent Borough.

The ten Romanian police officers are working with the Metropolitan Police Service for three months. The officers, seven male and three female are all trained in criminal investigations and will be able to assist with identification issues, victims of Romanian nationality, and immediate research of police indices in Romania.

During the week the officers will be working with officers from Brent Safer Neighbourhoods Teams and Safer Transport Team to tackle crime and immigration issues and to offer their expertise
Detective Inspector Paul Whiteman said: 'I'm delighted to welcome our Romanian colleagues to Brent Borough, they will be assisting in improving community engagement amongst our local Romanian community, aid us in obtaining information and help in tackling specific issues which relate to criminals with links to Romania. By fostering a close working relationship, we aim to build on the attachment to allow further joint working and improve our officers knowledge of the Romanian community in Brent. These links will be invaluable in our fight against crime and will give our Romanian colleagues a unique insight into the MPS."