Police Cricket Latest
Police Cricket Latest
Tuesday, 28 August, 2012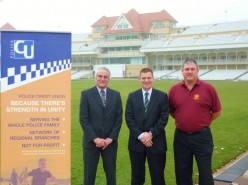 Left - Peter Evans CEO Police Credit Union Centre - ACC Marcus Beale Chairman PSUK Cricket Right - David Fraser-Darling Secretary PSUK Cricket


The National Knockout Competition which is in its 2nd year of Sponsorship by Police Credit Union has reached the Semi Final stages.

For the first times in many years there will be no English Force challenging for the title as 3 Welsh and the Irish will battle for a place in the Final at Derbyshire CCC on Wednesday 19th September 1200.

The Semi Finals are

Police Service Northern Ireland v South Wales - Tuesday 4th September
at Newforge (Belfast)

North Wales v Dyfed - Powys - Wednesday 5th September
at Pontblyddyn CC (Wrexham)


The Giffard Plate Competition Final will take place on Thursday 13th September at Blackpool CC at 1300
The Finalists are
Greater Manchester Police v Nottinghamshire

Peter Evans CEO of Police Credit Union said

"Our first year's association with Police Sport UK cricket was a great success, helping raise the profile of Police Credit Union across the UK police family. We believe the whole event was very well organised, culminating in an excellent Final at Derbyshire CCC.
Police Credit Union only sponsors a limited number of activities within the police family at a tightly controlled level. This sponsorship proved real value for money in bringing the name and services of Police Credit Union to a much wider audience"