PCSS Richard Kearney receives MBE in Queens Birthday Honours
PCSS Richard Kearney receives MBE in Queens Birthday Honours
Friday, 20 July, 2012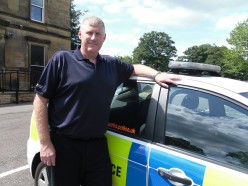 Richard Kearney, 47, is well known in and around the Rotherham District. As the winner of the local PCSO of the year award on two occasions and runner up in the national awards in London, it comes as no surprise to us all at South Yorkshire Police to hear that Richard has been awarded the prestigious MBE in the 2012 Queens Birthday honours.

The award has been given for Policing and Community Service and is a well-deserved accolade considering the dedication and commitment that Richard puts into his role as Wentworth South PCSO Supervisor.

Richard always delivers and goes above and beyond to help the communities of Wentworth South. Since becoming PCSO Supervisor back in 2004 he has managed to secure funding in excess of £300,000 from partnership, working and dipping into grant funding streams wherever they become available. The money has been used to improve services within the community for the younger generations by improving lighting, building a skate park and a multi-use games park in Victoria Rosehill Park.

Within the community, over 5,000 people have access to his mobile phone and he is always on hand to help in any situation at any time of day. The work that Richard puts into the community does not only improve the services for the local teenagers, but by doing this it reduces antisocial behaviour and therefore, improves the local amenities for other generations around the shops, resulting in people feeling much safer within the community.

Over the last couple of years, Richard has organised the Party in the Park along with William Percival which was attended by over ten thousand people. The event included sixteen live bands,funfair, american wrestling, police dog exhibitions, army cadets, vintage car rally, birds or prey, farmers markets and much more. The next event is scheduled for the 28th and 29th July 2012 at Victoria Rosehill Park and fingers crossed that the weather improves, Richard hopes that the event will still be going ahead.

Richard is very humble about the award that he has received and is still slightly overwhelmed and surprised that a man who started his career down the pits should be granted an MBE.

Luckily, Richard has a very supportive family who are used to his commitment to the job. He is due to travel down to Buckingham Palace within the next six months and will be accompanied by his wife Anne-Marie, and two children, Joshua and Natasha. His only wish is that he is lucky enough to receive his award from Her Majesty Queen Elizabeth ll during the jubilee year.

Richard says, "Without the support of my family and my team, none of this would ever have been possible. I still think it is not really happening and someone has sent a joke letter."