Youngsters name police's latest recruit
Youngsters name police's latest recruit
Tuesday, 24 January, 2012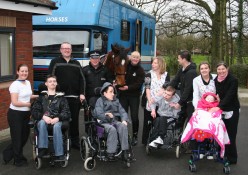 CHILDREN from a specialist care unit have named Lancashire Constabulary's latest horse recruit.

The youngsters - who all have life threatening or terminal illnesses - decided to name the four-year-old bay gelding 'Gisburn'.

Officers took the horse to Derian House to visit the children and for help in deciding on a working name for him. A ballot was run at the hospice so that the children could come to a decision.

PC Adrian Phillips from Lancashire Constabulary's Mounted Branch said: "All our police horses are named after a town in Lancashire so we asked the children to come up with the name of a local town beginning with the letter G - as we didn't have any horses with names beginning with that letter.

"The children were really excited about picking a name and meeting our new horse. Touching and interacting with animals plays a huge part in the children's development and it was great to get them involved."

Derian House, based in Chorley, provides specialist care for children with life threatening or terminal illnesses as well as support for their families.

Officers hope to take Gisburn back to the hospice again soon to visit the children.

Care team member and play specialist at Derian House, Tina Thorpe, said: "The children and staff at Derian House were thrilled to have been involved in finding a name for this wonderful police horse.

"We really look forward to charting his progress and seeing him in the future."

Gisburn will now undertake 12 months training at the force's mounted branch in Hutton, Preston before undertaking police duties. Typical duties for a police horse, once trained, include policing football matches, searching for missing people, ceremonial duties, responding to public disorder as well as general patrol duties.

Lancashire Constabulary has a total of 18 police horses. Names of other horses include Sawley, Reedley, Dalton, Pendle, Silverdale and Marton.