Youngsters invited to join police cadet scheme
Youngsters invited to join police cadet scheme
Friday, 13 January, 2012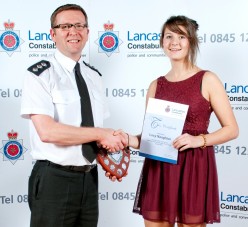 YOUNGSTERS are being offered an insight into policing as part of a cadet course in Burnley, Pendle and Rossendale.

Up to 40 people will be given the opportunity to take part in the 37-week course and gain experience in the many different departments of Lancashire Constabulary.

At the end of the course, each cadet will receive a volunteering and first aid qualification, which enhances their CV and can be used towards entry into higher education.

Last month, 23 cadets celebrated a year of achievements after graduating from the 2011 scheme. The cadets all gathered for a presentation evening held in Padiham Town Hall to receive certificates from Burnley College for successfully completing the scheme.

Special recognition was given to the enthusiasm and motivation of Jack Leeson and Stacey Brooks who received an award for physical fitness and Kelsie Lampard who was awarded for the most volunteering during the scheme. 17 year-old Lucy Naughton, from Burnley, was named the overall Police Cadet of the Year and was presented with the annual trophy by Chief Inspector Bullas and the Mayor and Mayoress of Padiham.

Sgt Natasha Shaw, who runs the scheme, said: "Due to its continued success we will be running another scheme this year and we are now looking for the next round of recruits.

"The cadets will carry out a crime prevention project in the community, fitness tests and receive weekly inputs into the departments inside Lancashire Constabulary.

"They decide on a charity of the year and will complete charity walks, canoes, jailbreaks and other activities to raise as much money as possible.

"This is a unique new course which allows young people to work with local communities and really give something back to the areas in which they live.

"The young people not only work towards a qualification, but they get a real sense of achievement and develop leadership and communication skills too. It is a fantastic opportunity and I urge young people to sign up and start making a difference."

The course starts on Tuesday 3 April is open to young people between the ages of 16 and 19 (you have to be 16 at the start of the course.) Sessions will be run every Tuesday between 7pm and 9pm in Burnley.

Application forms can be downloaded from http://www.lancashire.police.uk/recruitment/volunteer-police-cadets or for further information people can contact Pennine Division Volunteer and Specials coordinator Ann Smith 01282 472253

The closing date for applications is 31 January 2012.