Earl meets key staff
Earl meets key staff
Tuesday, 03 January, 2012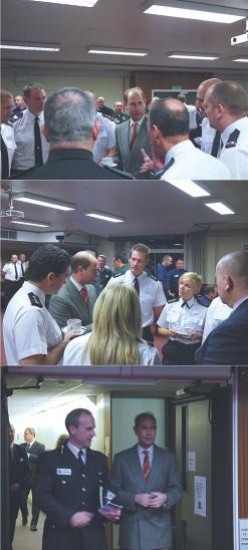 Earl of Wessex meets police officers in Taunton


His Royal Highness Prince Edward, the Earl of Wessex met last month many of the police officers who responded to the tragic M5 collision in November.

Police along with fire, ambulance and highways worked tirelessly to rescue those involved in the collision that tragically took seven lives.

Prince Edward was greeted at County Hall in Taunton by Assistant Chief Constable Anthony Bangham who led the operation as Gold commander on the night in question.

ACC Bangham said: "Prince Edward's visit is a welcome recognition of the courage and dedication shown by many of those emergency service officers who faced difficult circumstances when they arrived at the scene. Although this is what they do day-to-day, many had never responded to an incident of this scale."

Prince Edward met with around 80 members of staff from the emergency services. Chief Inspector Paul Richards was one of them, he said: "The Prince thanked us for all the work completed at the scene and was very interested to hear what we faced."

Sergeant Dave Loat from the Collision investigation unit added: "Having worked in this field for the last 11 years this was one of the worst incidents I have ever seen. Out of adverse circumstances all emergency services and support agencies worked extremely well together to limit the loss of life the best we could."