MBE for Ozbox founder
MBE for Ozbox founder
Friday, 30 December, 2011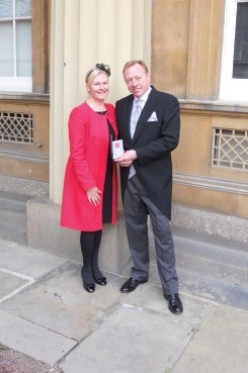 Sgt Stephen Osbaldeston with his wife Joanne

A Derbyshire police officer who was made
an MBE earlier last year in the Queen's Birthday Honours travelled to Buckingham Palace, last month to collect his medal.

Sgt Stephen Osbaldeston, who was recognised for his services to policing
and for setting up a boxing scheme for
troubled youngsters, was presented with his MBE by HRH The Queen on December 6.

Sgt Osbaldeston set up Ozbox, a free boxingbased training scheme for youngsters aged between 12 and 19, in 2005 at Chesterfield Police Station.

The classes, which are now held across the
county, are run by off-duty police officers and are designed to reduce nuisance and criminal behaviour by giving youngsters something to do.

Sgt Osbaldeston, of Alfreton, has 27 years' service with Derbyshire Constabulary and continues to work full-time on Ozbox to turn around the lives of disaffected youngsters. His wife Joanne is
also a serving police officer as is one of his three children. He was one of four officers from the county recognised in
this year's Birthday's Honours List.

Sgt Osbaldeston said: "It was a great honour to meet the Queen and receive my medal. It is nice to be recognised for
all the hard work that has gone into Ozbox and through substantial funding it is now going from strength to strength."