School children target speeding motorists
School children target speeding motorists
Tuesday, 18 October, 2011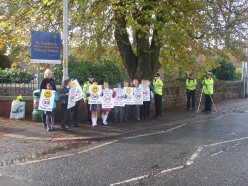 SCHOOL children from Ashton joined forces with the police to target speeding motorists this morning (Tuesday 18 October).

Youngsters aged between eight and ten from St Andrew's C of E Primary School on Blackpool Road joined officers from the neighbourhood policing team and road policing unit on Blackpool Road, near the junction with Tulketh Road.

The officers used speed enforcement equipment between 11am and midday.

Seven motorists who were speeding were pulled over by officers so the children could speak to them to highlight the dangers of driving at excessive speed.

Lea Insp Dave Brown said: "Many children have to cross this busy road to and from school. This provided an opportunity for local children to get involved by helping to send a clear message to motorists to be respectful and thoughtful when driving.

"The drivers spoken to were remorseful of their actions and said that they had learnt from it. We hope that this activity will remind drivers of their responsibilities and of the potential dangers of speeding."