Lewisham officers set record for swim around Isle of Wight
Lewisham officers set record for swim around Isle of Wight
Wednesday, 05 October, 2011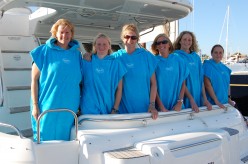 Two MPS officers were among a team of six to recently set a record for swimming around the Isle of Wight.

Becky Hedges and Rachael Cretten, who are both officers at Lewisham, were part of the first ever all-ladies team to have completed the mammoth swim. In doing so they set a record time of 17h 50m 50s.

On 28th September 2011, six ladies known as 'The Lovelies' set off on this monumental challenge that was last completed successfully back in 2000 by a mixed team. The team was accompanied by a chartered boat, Dark Angel, piloted by Henry Hillier from Marine-Matters (a Southampton based company) and also safety crew of Ian Smith, Ian Muir and Alex (one of Henry's colleagues).

At 21.20hrs the team, made up of Liane Llewellyn, Lucy Donnelly, Becky Hedges, Rachael Cretten, Kathy Batts and Paula Foreman set off from Ryde Pier. The start time was set by Henry after studying the tidal predictions. The team swam in hour stints all through the night and into the morning of Thursday 29th September.

The team swam anti-clockwise round the island, through The Needles and onto St Catherine's Point where the water was somewhat choppy, before heading onto Bembridge where the tides were well and truly against them. Everyone dug deep and the team were an hour ahead of schedule, which was amazing given the extremely tough water and treacherous tides they had swum through.

Once past Bembridge the team was on the home straight back to Ryde pier and cheers of pure elation went up after 17hours, 50minutes and 50 seconds of tough and tiring swimming.

PC Becky Hedges who works at the Jigsaw Unit at Lewisham said: "We are the first Ladies Only team to swim around the Isle of Wight. This is a title that no-one can ever take from us. After lots of tears and hugging the champagne was opened and although there were 10 weary people on board, the celebrations began. To say we are elated is an understatement!"