Bedfordshire FLOs Meet HRH Prince of Wales and HRH Duchess of Cornwall
Bedfordshire FLOs Meet HRH Prince of Wales and HRH Duchess of Cornwall
Friday, 11 February, 2011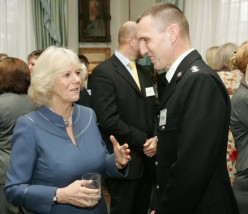 Police Inspector Colin Bonner and the Duchess of Cornwall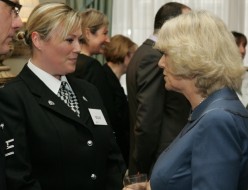 Police Sergeant Emma Oliver and the Duchess of Cornwall.
Two Bedfordshire Police officers have met HRH Prince of Wales and HRH Duchess of Cornwall today (Thursday 10 February) to talk about their role as Family Liaison Officers.

Following his meeting with a number of families who have had relatives murdered, HRH The Prince of Wales asked, through ACPO, to meet a group of Family Liaison Officers from across the country so that he could find out more about their work and thank them for what they do. A group of 90 officers from every force in the country attended Clarence House today and met HRH and the HRH Duchess of Cornwall privately for a two hour meeting.

Clarence House requested that as far as possible the people who their Royal Highnesses met were front line officers who have had actual contact with families, this included FLO's employed in a Roads Policing role and who deal with families of victims of fatal collisions.

Some Family Liaison Coordinators have also been invited, as well as NPIA trainers who deliver the FLO programme.

The head of the new National Homicide Service, the VS led team giving support to families of homicide victims also attended.
Bedfordshire were represented by Inspector Colin Bonner of the Roads Policing Unit and Sergeant Emma Oliver.

Assistant Chief Constable Katherine Govier, Beds Police's Protective Services, said: "We are pleased to see this recognition of the role of Family Liaison Officers who play a very important role in the incidents in which they are deployed. It is excellent recognition of the role that these outstanding officers play - and the unique service they give to the families of victims."

Colin Bonner has been a Police Officer for 27 years, an FLO for nine years and a Family Liasion Co-ordinator (FLC) for eight years. He was FLC for the deployment of FLO's for the Tsunami and London bombings for families living in Bedfordshire.

Emma Oliver has been a Police Officer to 15 years and an FLO for eight years and a FLC since 2006. Recently she has been involved as FLO in the sudden and unexpected deaths of two young children.

Emma Oliver said: "Our role is one of an investigator first and foremost as well as offering support. We work within the investigation team to obtain information needed for the investigation from specific members of families directly affected by the loss that they have endured.

"I was the FLO for PC Jon Henry, who was murdered in Luton in 2007 and through all my deployments this was my hardest and most challenging, yet also one of the most worthwhile. We also deploy to every child death in Bedfordshire and last year I was deployed to a child who had died whose parents were serving officers, this was also difficult."