North Manchester Police Officers and Staff Commended for Commitment and Bravery
North Manchester Police Officers and Staff Commended for Commitment and Bravery
Monday, 24 January, 2011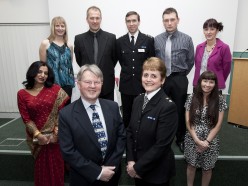 Nominees with Chief Super. Caroline Ball, Cllr Jim King from Co-operative Membership. PC Ann Ferguson, PC Andy Marren, CI.John McNeil, Serg. Rik Byatt, Ins. Ruth Bradley-Holt. PC Anu Singh, Cllr Jim King, CSuper. Caroline Ball, Spec Serg. Mo Conwell


Officers and staff from Greater Manchester Police were presented with awards and certificates for bravery and commitment at a ceremony on Friday 21 January 2011 at GMP's Sedgley Park Complex.

The North Manchester Division's Chief Superintendent Caroline Ball presented the event that was supported by The Cooperative Membership and Manchester City Football Club's City in the Community initiative. Guests included Cllr Jim King, representing the Co-operative Membership, and family and friends of the award recipients.

Chief Superintendent Ball said: "There are a lot of dedicated staff and officers carrying out some excellent work in north Manchester, which is evident in the kind of awards that have been presented.

"I would like to congratulate all of the finalists and thank them for their contribution and dedication in the service they provide to all our communities."

Simon Plunkett, The Co-operative's Acting Regional Secretary for the North West and North Midlands said: "As a community retailer, The Co-operative believes in celebrating the success of local heroes, the people that work day in, day out to bring a community to life. It has been an absolute pleasure to support these awards, recognising the fantastic work that officers from Greater Manchester Police do in and around the north Manchester area."

Award recipients included:

Special Sergeant Maureen Conwell - Citizen Focus Award

Mo is a Special Sergeant who works in the Beswick and Openshaw area. She has been involved in many action days and community events and is also an ambassador for the Special Constabulary, working to recruit other volunteers from within the local area. She does a lot of work with schools and community centres and is a valued member of the neighbourhood policing team and its communities.

PC Anu Singh - Diversity Award

Anu has gone to great lengths to engage with the many different religious communities that live and worship within the community that she serves. She has worked hard to change the perception of the police in cultures where police forces are sometimes seen with suspicion and a lack of trust.. Anu has also done a lot of work with refugee centres in the Beswick and Openshaw area and spoken at various large-scale conferences and events while helping to set up Home Watch groups in the area.

Angela Doyle - Neighbourhood Award (member of the public)

Angela is the Chair of the local Residents' Association for the Delamere Park in Openshaw. She has worked with the local neighbourhood team to campaign for road safety in her local area ('20 is Plenty') and has attended a number of meetings with police and local councillors to ensure the voice of the community is heard. Angela is an extremely dedicated volunteer for the local area and is a shining example of someone who is prepared to go that extra mile.

Divisional Commander's Commendations were awarded to:

PC Mark Semple - for his bravery and tenacity after facing a violent offender who was armed with a knife.

PCs Kenneth Wilson, Kevin Boyd and Helen Bull - for their bravery and professionalism while dealing with a group of men fighting in the street. Despite officers not being in uniform and being outnumbered they intervened and managed to detain two offenders. One man subsequently died from his injuries and one of the officers suffered injuries after being punched and kicked in the face. Without the swift action from officers the offenders may not have been identified.

Senior HR Assistant Michelle Howell - for consistently going above and beyond the requirements of her post, particularly in coordinating the re-posting of officers during the divisional policing model roll out.

PC Matthew Bolger - for displaying exemplary standards of witness care and carrying out a thorough investigation while dealing with an attempted murder outside a city centre hotel. The investigation resulted in a guilty verdict at court.

Sarah Illingworth (member of the public) - for her courage and determination as duty manager at a city centre hotel where an attempted murder took place outside. The incident was extremely distressing and Sarah had to deal with inebriated individuals in hysterical circumstances. She also helped administer first aid to the victim while trying to stem the bleeding from his fifteen stab wounds. After giving evidence at court the Judge recognised that without Sarah's intervention the victim may have died.

Lynne Bevan (member of the public) - for her courage and determination as a guest at a city centre hotel where an attempted murder took place outside. As a trained midwife, Lynne administered first aid to try to stem the victim's bleeding from his fifteen stab wounds for a prolonged period. After giving evidence at court the Judge recognised that without Lynne's intervention the victim may have died.