Bluetooth Marketing Technology gets seal of approval
Bluetooth Marketing Technology gets seal of approval
Monday, 24 January, 2011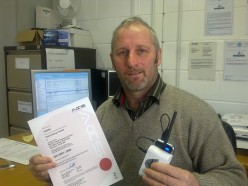 Rob McCutcheon with the new certificate of accreditation
Bluetooth marketing technology specialists in the South West have been given the seal of approval to grow and expand.

St Austell-based Astracasting, which has contracts with more than 30 police forces in the UK, is now eyeing lucrative deals in the military and overseas markets after being awarded the coveted UKAS (United Kingdom Accreditation Service) ISO 9001 quality management system standard certificate.

The firm is the leader in Bluetooth broadcasting services involving the supply of digital messaging to both the public and private sectors. The system works by delivering SMS messages to passing mobile phones, without any network charges.

It has already been used by Strathclyde Police to issue hard-hitting messages on knife crime to late night revellers in Glasgow, whilst officers in Bath have used Bluetooth messaging to warn people about noise, with the threat of an £80 fine. It is seen as an effective way to deliver vital crime safety messages direct to the public and could now be used around the globe.

With the ISO 9001 accreditation under its belt, Astracasting is hoping to grow and expand in its field. The award means the firm has passed a rigorous audit of its ability to supply high quality goods and services if it needs to expand quickly, giving potential customers confidence in its service.

It is already in negotiations with a Brussels-based NATO approved distributor to supply the US military in Afghanistan, and earlier this month, Managing Director Rob McCutcheon visited the Emirates stadium in London to meet several offshore distributors for the company's products from the anti-terrorism and Homelands security industry.

Opportunities are also on the horizon in India and the USA where Rob met the assistant chief of the Washington DC police department.

Rob said: "We've come a long way since it all started in 2007. Although some of our clients are now high-level and military, we've not forgotten our roots and still work with clients of all sizes, so we'd love to hear from anyone interested in using any type of messaging or marketing to mobile phones for their business."

Go to www.astracasting.com to see a BBC video of how the system works and to find out more on how digital messaging works for businesses and the public sector.