North Manchester Divison Scoops Cheif Constable's Awards
North Manchester Divison Scoops Cheif Constable's Awards
Monday, 01 March, 2010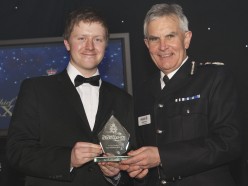 North Manchester Division cleaned up on the night with five of the fifteen awards being presented to officers and staff at this year's Chief Constable's Awards on Friday 26 February 2010.

The ceremony was held at the Great Hall, Manchester Town Hall, compared by Gordon Burns and Ranvir Singh.

The Award for Partnership Working was given to the Operation Ouse team in recognition of the multi-agency project that was set up to trace and support those young people who may be at risk of exploitation. Operation Ouse has set up a long-term framework diverting young people from slipping into criminality.

The Award for Outstanding Communication was given to the Community Impact Team for its work leading up to and during the English Defence League protests last year. Face-to-face briefings were held with neighbouring forces, councils and mosques. One such meeting was with 40 Imams from across the North West who agreed to pass on messages at all prayer meetings.

The Award for Community Support Officer of the Year went to PCSO John Slattery for being an outstanding, self-motivated officer who has set up a vast amount of initiatives and schemes to improve the quality of life for the neighbourhood, including a successful road safety campaign.

The Cheetham Hill Neighbourhood Engagement Team received the Karen Mulligan Diversity in Action Award. Officers were praised for their commitment to increasing the trust and confidence of minority communities in the area and improving communication between them and the police.

The Brave Officer of the Year Award was presented to two officers for their bravery after being attacked and stabbed by an intruder at the scene of a burglary where a family was being threatened in their own home. The officers, despite being severely injured, disarmed and arrested the offender who is now serving an indeterminate life sentence in prison.

Officers from the North Manchester Division's Volume Crime Team were finalists for the Outstanding Team Performance Award and were recognised as one of the best teams out of a total of 43 team award submissions.

As a highly motivated and successful team, they have a long list of outstanding results under their belts from the past 12 months. They were responsible for recovering the UK's biggest single recovery of crack cocaine and GMP's biggest ever cash seizure.