Top award
Top award
Friday, 27 November, 2009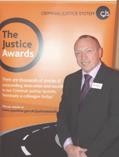 Steve Osbaleston at Justice Awards


Last month Sergeant Steve Osbaldeston
won the Daily Mirror People's Award at the 2009 Justice Awards for his work with young people.

Six years ago Steve was inspired to develop a scheme to steer young people away from crime and anti-social behaviour.

The result is Ozbox, noncontact boxing and fitness activity that is literally
changing lives. Steve and his Ozbox Team now organise regular sessions run by trained volunteer tutors in schools, behaviour support units and community venues. More than 700 sessions have
been run involving a staggering 100,000 youngsters.

Ozbox is also helping to tackle local gang
problems following a shooting in Derby in
2008. By making the scheme totally inclusive they are working to break
down barriers, which lead to confrontations between various gangs.

Steve collected the award at a glittering ceremony at the historic Banqueting House in London, presented by the Mirror's Kevin Maguire Steve Osbaleston at Justice Awards and victims' champion Sara Payne together with a cheque for £1,000 to
donate to NACRO.