North Yorks Police in top spot
North Yorks Police in top spot
Friday, 27 November, 2009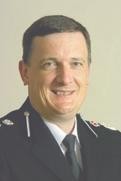 Chief Constable Grahame Maxwell


The continued success of Safer Neighbourhoods policing in North Yorkshire and the City of York has again
been reflected in the latest British Crime Survey findings.

Not only do local residents feel safer and protected from crime and anti-social
behaviour than anywhere else in England, confidence in the police service is also the highest in the Yorkshire and the Humber region and one of the highest in the country.

North Yorkshire Police and the local authorities also rated above the national average in how anti-social behaviour
and crime issues that matter to the local area are dealt with. Again, this places
the force as the highest rated in the Yorkshire and Humber region and 11th
highest in England.

Chief Constable Grahame Maxwell said: "The British Crime Survey is widely
viewed as a truer gauge of public perceptions on crime and anti-social behaviour. Therefore it is very satisfying
that the efforts of North Yorkshire Police, North Yorkshire Police Authority
and partner agencies are making a real difference to the very people we serve in
our communities.