Basildon district commander recognised by Colchester Institute
Basildon district commander recognised by Colchester Institute
Tuesday, 24 November, 2009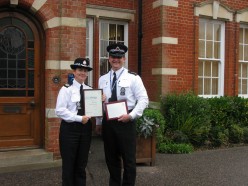 Assistant Chief Constable Sue Harrison presenting the Chartered Management Institute Level 5 Diploma in Management and Leadership to acting Chief Inspector Paul Howell, who is also holding his Top Student of the Year trophy


A BASILDON police officer has been named as Colchester Institute's Top Student of the Year undertaking Chartered Management Institute qualifications.

Acting Chief Inspector Paul Howell is Basildon's district commander. He completed his studies for a Chartered Management Institute Level 5 Diploma in Management and Leadership while an inspector in Pitsea.

He was named top student from more than 150 students from various police forces and other organisations who were studying for their diploma at Colchester Institute.
Acting Chief Inspector Howell said: "I am delighted to have received this award.
Balancing the study for a post-graduate management qualification whilst running one of the busiest policing sections in the county has not been easy.
"However, I thoroughly enjoyed the experience and recognise the value it has added in my approach to leadership and management of police operations, people, processes and data."

He received a £100 cheque and a special trophy at an institute presentation evening on November 9 and then, on November 18, he was presented with his diploma by Assistant Chief Constable Sue Harrison at Essex Police HQ in Chelmsford.
Mrs Harrison said: "Acting Chief Inspector Howell has done extremely well in achieving this qualification and by also being named Top Student of the Year by Colchester Institute.

"It is a tremendous accomplishment."
Essex Police offers its officers and staff the chance to study for certain qualifications through Colchester Institute. Programme director Billy Little also tutored acting Chief Inspector Howell and said he had been "an outstanding student".

"Paul's level of work was exceptional and this was also commented on by two external verifiers from the Chartered Management Institute," added Mr Little.