Chief Constable Congratulates Neighbourhood Watch Scheme Coordinators
Chief Constable Congratulates Neighbourhood Watch Scheme Coordinators
Wednesday, 18 November, 2009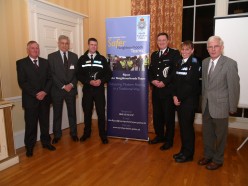 Councillor Andy Burrell Chairman (Masham Parish Council), Mr Keith Roberts (Neighbourhood Watch Chairman Harrogate & District),Insp Steve Breen,Chief Constable Grahame Maxwell, PCSO Sharon Wilson and Mr Allan Bailey (Neighbourhood Watch Chairman Masham)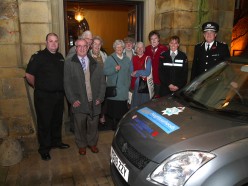 Kenny Beck (Fire & Rescue), Members of the Neighbourhood Watch, PCSO Sharon Wilson and Chief Constable Grahame Maxwell


Chief Constable Grahame Maxwell recently attended a meeting of the Masham Neighbourhood Watch Scheme coordinators to congratulate them for their efforts to develop the scheme.

Masham has had a dedicated group of Neighbourhood Watch coordinators for a number of years however they could only cover a limited number of streets. Police Community Support Officer Sharon Wilson identified where the extra coverage was needed and liaised with Mr Allan Bailey, Neighbourhood Watch Chairman for Masham. This resulted in each street in Masham having its own Neighbourhood Watch coordinator.

PCSO Sharon Wilson, said: "The evening was a great success. It was an opportunity for me to bring together the representatives from the Masham community and external agencies with a common goal of "community safety and wellbeing". This, in my opinion, can only go to strengthen the feeling of community spirit, safer neighbourhoods and strengthen partnerships, working together as 'one' with the ultimate goal of reducing crime and the fear of crime.

"I would like to thank Batchelors of Ripon who kindly donated a sponsored car and Lord Masham, Mark Cunlisse-Lister who let us use Swinton Park Hotel free of charge, which was a wonderful venue."

Chief Constable Grahame Maxwell said: "I enjoyed meeting with the members of the Neighbourhood Watch in Masham, and would like to congratulate them for establishing such a strong and supportive network. This illustrates the obvious sense of community and pride that the residents of the village have. North Yorkshire Police are obviously keen to continue to maintain the low crime levels in the area. PCSO Sharon Wilson and PC Gareth Jones will continue to work closely with the community in the future to ensure we continue to deliver 'Modern Policing in a Traditional Way' in Masham."

PCSO Sharon Wilson also arranged for other speakers to attend the meeting, who gave presentations about the services that they offer the community. They were Kenny Beck from the Fire and Rescue Service and Claire McKinlay from North Yorkshire County Council Trading Standards.