Cumbria's Deputy Chief Constable to represent UK in International cybercrime conference
Cumbria's Deputy Chief Constable to represent UK in International cybercrime conference
Tuesday, 17 November, 2009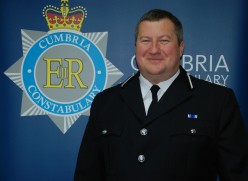 DCC Stuart Hyde


Cumbria Constabulary's Deputy Chief Constable is set to represent the UK in Romania this week during an International conference to prevent and tackle cybercrime.

DCC Stuart Hyde has been invited to take part in the four-day conference which will see Constabularies from around the world join forces to share expertise and best practice to fight internet crime.

The conference for the world's leading lights in the fight against Cyber Crime is being held in Sinaia, Romania, as the country suffers from online auction fraud. Representatives from the FBI and other forces from Spain, Finland, Slovakia, Scandinavia, Italy and Russia will be amongst the audience. IT Security companies, Internet providers and Microsoft will also be in attendance.

The conference will see expert speakers from across the world discuss the prevention of cyber crime, delve into the depths of internet fraud and bring to light the newest techniques that criminals are employing online.

DCC Stuart Hyde, who in his fourth year as President of the Society for the Policing of Cyberspace (POLCYB), a charity which sees law enforcement and industry working together to increase people's personal and professional knowledge of cyber crime issues, said:

"I'm delighted to be attending this event which shows how seriously the world is taking the issue of cyber crime and demonstrates our commitment to tackling fraud and identity crime both on and offline.

"Our online world is becoming ever more complex so the need to understand the current issues in order to stay one step ahead of criminals is absolutely crucial.

"By bringing minds together and sharing knowledge, experience and expertise, we hope to equip law enforcement agencies with the means to tackle this developing worldwide problem quickly and effectively - right across the globe.

"By sharing ideas and tackling issues together we will be able to make the Internet a safer place here in Cumbria and across the UK."