Major New Campaign To Crack Down on Drug Driving
Major New Campaign To Crack Down on Drug Driving
Monday, 17 August, 2009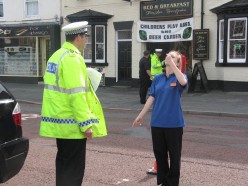 FIT test training in Northallerton


North Yorkshire support for campaign

The first national TV advertising campaign to tackle drug driving was launched by Transport Secretary Andrew Adonis today after new research showed that one in 10 young male drivers admit to driving after taking illegal drugs.

The new £2.3 million campaign highlights that the police can and will detect drug drivers - and that anyone convicted will face the same tough penalties as a drink driver. The first TV advert will be shown tonight before Coronation Street.

One in five drivers killed in road accidents may have an impairing drug in their system.

The police can spot the signs that someone is driving under the influence of drugs and - as the new campaign highlights - once a driver has been stopped their eyes will give them away because of the obvious and involuntary effects drugs have on the body. Anyone convicted of driving while unfit through drugs will get a minimum 12 months driving ban, a criminal record and a large fine.

Transport Secretary Andrew Adonis said:

"Government campaigns over the past 40 years have succeeded in making drink driving socially unacceptable and cutting the number of people killed in drink drive accidents by nearly three quarters.

"But some drivers who would never get behind the wheel after drinking still believe they can drive after taking drugs. We are determined to get the message through to this reckless minority that their behaviour is putting lives in danger.

"The penalties for drug driving are just the same as for drink driving because drug driving is just as dangerous. Drivers should be in no doubt that if you get behind the wheel while under the influence of drugs then the police can spot you, they can test you and you will face punishment."

In addition police forces across the country will be targeting drug drivers throughout the August music festival and holiday season.

The new campaign also includes print, poster and on-line advertising as well as music festival and radio sponsorship.

North Yorkshire Police have recently trained even more of their officers to spot drivers under the influence of drugs.

Officers can use a variety of methods to check whether a motorist's driving is impaired. These Field Impairment Tests (FIT) include checking a driver's pupil size, which can indicate drug use, and carrying out balance and co-ordination checks - such as asking a driver to stand on one foot or walk in a straight line.

Inspector Dave Brown, head of strategic roads policing at North Yorkshire Police, said: "There is no doubt that the taking of drugs can, have a significant impact on a driving ability.

"The penalties for drug driving are the same as drink driving. The consequences can be just as devastating."

The campaign is also being supported by 95 Alive, the York and North Yorkshire Road Safety Partnership which involves the emergency services, North Yorkshire County Council and other local agencies to cut deaths and injuries on the roads.

David Bowe, Chairman of 95 Alive said: "This new THINK! campaign is a real step forward in clamping down on drug driving. People who take drugs need to be aware of the dangers they represent on the roads, and the fact that with FIT testing there'll be a significant chance that they will be caught.

"The numbers of casualties on North Yorkshire's roads are at their lowest for twenty years, anything that can be done to further cut down the numbers of people killed and seriously injured is to be welcomed."