SPECIALS TAKE CONTROL
SPECIALS TAKE CONTROL
Monday, 03 August, 2009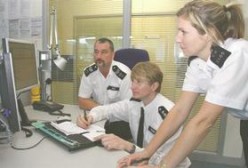 Sgt Pete Strachan, CI Ray Rogers and SC Laura Parker


On what turned out to be the busiest Saturday in June, volunteers from Enfield's Special Constabulary successfully took over the entire 12-hour operational shift on June 27.

This groundbreaking idea was the result of months of planning and preparation initiated by Chief Inspector Ray Rogers.

It was an historical event as it was the first time Specials have provided the entire policing response for a whole shift singe-handedly in Enfield and also the first time this has happened in the MPS.

Many of the Specials on the shift have served for some years with high levels of experience. No call proved to be too difficult and every challenge met.

The "Special" day in Enfield initiative was an opportunity to put into practice their significant training and operational skills and thus demonstrate their capability to effectively police the
borough. The lead up to 2012 will almost certainly result in Specials being called upon more and more.

Commenting on the day, Chief Inspector Ray Rogers the brainchild behind the patrols said: "The intention behind this was to test the capability of our Specials and allow them an opportunity
to put into practice all that they have been trained to do. Whilst many of the Specials have significant practical experience of supporting borough policing, this is the first time that they have had a chance to truly appreciate and respond to all the operational demands. They embraced the
challenges they faced throughout the day and I am very proud of them all."

Former Borough Commander - Ch Supt Adrian Hanstock added: "As demands for our services increase, and to ensure that we are fully prepared for the Olympics in 2012, I am really pleased that these patrols have demonstrated the capability and commitment of our volunteer Special Constables. "I am grateful for the time and effort given by the Specials and I am convinced that this will increase the borough's resilience and ensure that we have a significant number of competent warranted officers able to respond to local needs."