Wake up call for residents in East Lancashire
Wake up call for residents in East Lancashire
Monday, 13 July, 2009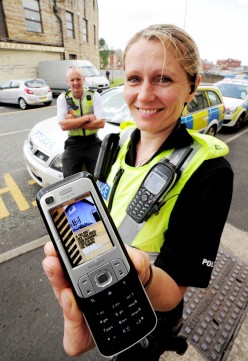 PC Louise Jacks and PCSO Rikki Gallacher


RESIDENTS in East Lancashire will be receiving either a wake up call or a thought for the night in the form of a text message from their local police.

Local Neighbourhood officers will be sending blue tooth messages to residents in areas which have been targeted by burglars at key times throughout the day and evening.

Officers will be using the novel method to highlight to residents, important information about home security and police hope they will remind people about the importance of keeping windows and doors locked, especially throughout the night.

This comes as part of Operation Julius, a countywide campaign to reduce burglaries in Lancashire.

Chief Inspector Damian Darcy said: "These messages should act as a wake up call to residents reminding them to make sure their doors and windows are locked and that their houses are secure.

"In the summer months and particularly due to the very warm weather, we know that people have a tendency to leave windows and doors open, leaving them vulnerable to burglars.

"These open doors and windows are invitations to a burglar. In over a third of all burglaries, thieves don't have to break in because people have left windows and doors unlocked.

"Getting a text message from the police as you settle down for the night, telling you that a burglary may have occurred in you area and asking you if you have made sure your windows and doors are secure will definitely make people sit up in bed, think and take action.

"If a burglary occurs officers will be deployed to that area in order to prevent further offences, as part of their patrol plan these text messages will be sent out.

"The text messages will point out that burglary in Lancashire is at its lowest in 35 years and we want to keep it that way. Residents have a crucial part to play to not make it easy for thieves to operate."