National language to code footwear
National language to code footwear
Monday, 29 June, 2009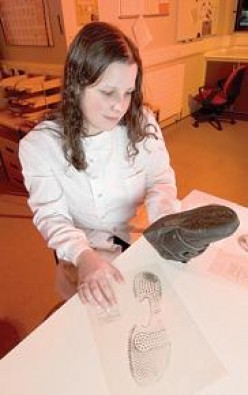 Senior footwear analyst Danyella Kellet


A new national footwear reference collection has gone live as part of a major National Policing Improvement Agency project involving Lancashire police.

Staff from the force's Scientific Support Unit have played an instrumental role in the development of the National Footwear Reference Collection (NFRC), which provides a new "nationally agreed language" for coding footwear patterns.

The unit was commissioned by the NPIA 18 months ago to help develop the reference library, working with Bluestar software and West Yorkshire Police. Since then a number of forces have worked together to agree the specification for the NFRC.

Richard Earland, Chief Information Officer at the National Policing Improving Agency, said:"The NFRC promises to raise the capability of footwear as an important evidence and intelligence source in crime investigation. It has already received excellent responses from the forces who piloted it as it is very easy to use.

NPIA will be measuring the NRFC's success over coming months and encouraging all police forces to take up this valuable crime-detection tool. This has been a great collaborative project between the NPIA, the police forces involved in the pilots and Bluestar."

Prior to the NRFC, police forces in England and Wales were either using commercial footwear systems or their own methods, none of which 'talked to each other; and therefore opportunities to detect cross-border crime through footwear intelligence were extremely limited. This is the first stage in developing a truly national footwear database which will totally change the way that police forces use footwear information allowing easy sharing of intelligence across the country.

There is also a new reference library using a single common coding system for identifying different types and models of footwear and their associated footprint templates, including new models. Footwear technology already solves between 60 and 90 cases per quarter in Lancashire alone. It is hoped that, with further development, the new database will increase convictions for Lancashire and for all other forces.

The Lancashire-based administration team also provides a help desk facility for any data issues and is available for police forces to submit new footwear patterns collected from a prisoner in custody which are not already on the database. New patterns will be coded by the team and added to the collection.

Dr Kath Mashiter, Scientific Support Manager for Lancashire Constabulary, said: "The launch of the NFRC represents a huge milestone in the footwear world, as for the first time, all police forces in England and Wales will be using a common reference collection.

"This will enable them to talk to each other in the same language - for example, a Nike 126 will mean the same in Kent as it does in Northumberland. "Without the NPIA and the Forensics 21 Footwear Project, we may have been waiting many more years to get to this stage. Several forces have worked very closely with the NPIA to develop this.