Troubles shared ease pupils' problems
Troubles shared ease pupils' problems
Monday, 10 November, 2008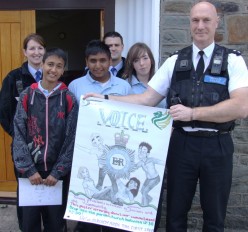 Maindee Inspector Geraint Evans, PCSO Dale Morris and PCSO Fiona Manfield with St Julian's pupils who designed winning posters to advertise the new drop-in centre


Neighbourhood police officers in the St Julians district of Newport have set up a drop-in centre for troubled school pupils.
The centre, the first of its kind in Gwent, is there for pupils of all ages from St Julians Comprehensive School and will be open on set days during term times, staffed by members of Maindee Neighbourhood Policing Team.

Pupils will be able to discuss a variety of issues such as bullying, drug and alcohol dependency and domestic abuse. Although the centre may be the first point of contact, the neighbourhood police officers will act as a support service, referring youngsters to relevant professionals.

The centre will also hold bi-monthly PACT (Partners and Communities Together) meetings organised by pupils from each year group, who will recommend policing priorities and could also offer vital intelligence from within the school community.

Interaction between St Julians pupils and police began when neighbourhood officers organised a competition for youngsters to design posters to advertise the new drop-in centre.

PCSO Dale Morris, who will manage the drop-in centre, said, "This is an excellent example of police and partnership working and can only add to the great relationship we're building with the communities we police."