Pedal power for local Police team
Pedal power for local Police team
Thursday, 06 November, 2008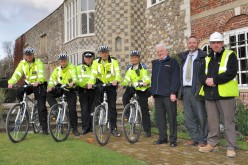 Barnehurst Safer Neighbourhoods Policing Team
Officers from Barnehurst Safer Neighbourhoods Policing Team have just taken possession of four new bikes thanks to sponsorship from Bexley Heritage Trust who manages Hall Place and Essex based company Hutton Construction Limited and support from White's Cycle Centre, Erith Road, Bexley.

Tony Nield Estate Manager for Hall Place said, "We were delighted to help fund the new bikes. We want the public to enjoy visiting the grounds of Hall Place and not be put off by the bad behaviour of a minority of young people. We saw a dramatic reduction in anti-social behaviour and petty vandalism when the team conducted regular cycle patrols in the past and now they have their own bikes they will be able to do this more frequently and provide reassurance for visitors to the area."

Sergeant Andy Kleywegt said, "The Bexley Heritage Trust and local businesses are working closely with us. Their contribution towards local policing and community safety will be seen at first hand by the residents, visitors and businesses in the shape of enhanced patrol capabilities and increased visibility across the whole of the ward."

Safer Neighbourhoods Policing teams in Bexley have been using bicycles for some time in their fight against crime and disorder. Bikes help the teams patrol a wider area than they would on foot during a tour of duty and allow officers to reach areas not accessible to our emergency vehicles.