New Dumfries cop wins top award
New Dumfries cop wins top award
Thursday, 16 October, 2008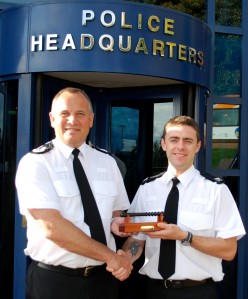 Constable Nelson Receiving the Baton of Honour from Chief Constable Patrick Shearer


A probation officer from Dumfries and Galloway Constabulary has walked away with the top national award for rookie cops.

Constable Lawrence Nelson from Annan has been awarded the Baton of Honour after he completed his training at the Tulliallan Scottish Police College.

Tulliallan is where all new police officers in Scotland are trained. The Baton of Honour is the highest recognition a probationer officer can receive and means Lawrence excelled in all forms of his training.

Lawrence was in a class of 146 and was considered to be the stand out officer, achieving high scores throughout all forms of training. Only one of these awards is issued to the most successful probationer in each training course.

The last time a probationer from Dumfries and Galloway Constabulary collected the award was in October 1998.

Lawrence will be stationed in Dumfries and said: "My course was to a very high standard with some exceptional officers training alongside me.

"So I was a little surprised to achieve the Baton of Honour for the course. It is such an esteemed award with many highly respected officers winning it in the past. I can only hope to go on and have a similar distinguished career.

"I realise that the real training begins now, when I go out and start serving the people of Dumfries. But I am extremely proud to have my efforts recognised and very pleased to accept the Baton.

Chief Constable Patrick Shearer said: "Lawrence has done a magnificent job in winning the Baton of Honour.

"We are very happy that one of our new officers has had his commitment and enthusiasm recognised in a national way. We fully congratulate his good work.

"The residents of Dumfries and Galloway deserve a first class police service and we believe officers like Lawrence will give them it. We know that a good police service is not about the individual but about teamwork and support. If our staff learn a good attitude and application from the start then the people of Dumfries and Galloway will have a police service to be proud of."