'Hackney a la med' 1200km charity challenge launched
'Hackney a la med' 1200km charity challenge launched
Wednesday, 20 August, 2008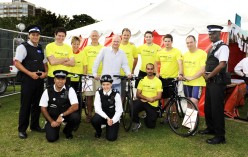 Metropolitan Police officers from Hackney Borough, along with staff from Hackney Council and the Crown Prosecution Service have announced their bid to run and cycle 1,200km in non-stop relay from Hackney to the French Mediterranean coast, to try and raise £30,000 for charity.

The gruelling 72-hour challenge will start on September 18 and will aim to raise funds for three local and national charities:

o Skyway - providing youth-led personal support to disadvantaged young people aged 10-25 in Hackney
o Chance UK - providing mentoring support to primary school aged children in Hackney
o Macmillan Cancer Support - working to improve the lives of everyone with cancer

The 20-strong team is calling on individuals and businesses to support them in their endeavours. Money can be donated via the www.hackneyalamed.com website, or at one of the collection boxes at Stoke Newington Police Station, 33 Stoke Newington High Street, N16.

The team will start the challenge at Hackney Town Hall at 10am on September 18, running in relay to Folkestone and then through northern France to the Arc de Triomphe in Paris. The cyclists will then pick up the baton for the long haul to Montpellier on the south coast of France, a total distance of 1,200km.

Metropolitan Police Commissioner, Sir Ian Blair will be on hand on the morning of the departure to see the team off from the steps of Hackney Town Hall, along with the Mayor of Hackney, Jules Pipe, and EastEnders star, Jake Wood, who plays Max Branning. Chief Crown Prosecutor, Dru Sharpling will be taking part in the challenge, and Chief Superintendent Steve Dann, Hackney's Borough Commander, will also be lending a hand, driving one of the support vehicles down to Paris.

Chief Superintendent Steve Dann, Hackney's Borough Commander, said, "The money raised from this challenge will go to providing assistance to vulnerable young people in Hackney, as well as those affected by cancer, three charities of great significance to officers and staff in Hackney. It's going to be a gruelling challenge for all involved but I've no doubt they will be successful and will raise valuable funds to benefit our local community."

Mayor of Hackney, Jules Pipe, said,
"The Council is pleased to be able to support such a worthwhile endeavour to raise funds for both local and national charities. I'm delighted to see officers and staff from across the borough pulling together and wish them the very best of luck in their three-day challenge."

The team is being sponsored by London Fields Cycles of Mare Street, Hackney, Xcel Energy Drinks and Buy-To-Let Montpellier, alongside generous support from Hackney Police's social fund and Hackney Council.

More information about the charities supported:

Chance UK

Chance UK is an award-winning charity, one of only six organisations in the UK to be re-awarded gold star status by the Cabinet Office as an exemplar of good practice in mentoring and befriending. Chance UK works with primary school children in Hackney with behavioural difficulties, who are at risk of developing anti-social or criminal offending behaviour in the future, and offers them one-to-one mentoring with a carefully screened, trained and supervised adult volunteer. Chance UK also offers support to the children's parents and/or carer.

Skyway

Skyway aims to address the personal support needs of disadvantaged young people, aged 10 to 25 years in Shoreditch and across Hackney, enabling them to achieve personal goals, realise their potential and contribute positively to their community. Skyway supports young people to work towards playing a fuller role in their communities through giving them opportunities to develop their responsibilities as leaders, educators and mentors, through youth-led work in areas including confidence building, health, lifestyle and sport.

Macmillan Cancer Support

Macmillan Cancer Support improves the lives of people affected by cancer. They provide practical, medical, emotional and financial support and push for better cancer care. Macmillan exists to help improve the lives of people affected by cancer, both those living with cancer and also their families and carers. Its primary focus for 2010 is to reach and improve the lives of everyone living with cancer.