Licensees Help Halve Crime In Town Centre
Licensees Help Halve Crime In Town Centre
Thursday, 24 January, 2008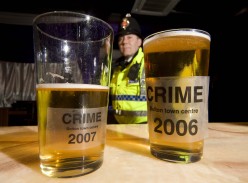 Crime in Bolton town centre was halved in 2007 with the help of a partnership scheme between the police and pub, club and bar licensees.

The town centre licensees agreed to work in partnership with police and signed a 'statement of intent' outlining how they would deal with crime and work towards developing a safer environment that promoted responsible drinking.

The partnership includes 31 of 34 town centre venues and has been congratulated for helping to reduce crimes including assault, theft, public order and drug offences by 49 per cent, from 320 reports between January to December 2006 to 162 reports in the same period of 2007.

Serious assaults were reduced from 127 in 2006 to 94 in 2007, a drop of 36 per cent and were halved in the two largest licensed venues in the town centre, the Ikon and J2/Smooth nightclubs.

Over the next few months it is hoped to sign up the remaining licensed town centre venues into the partnership and extend it to include town centre off-licenses. An officer dedicated to developing the partnership has been appointed and will be working to increase liaison and partnership working between the police and town centre drinking venues.

Operation Siren, a high profile policing initiative that operates Thursday to Sunday around the year to ensure responsible drinking, good public order and the safety of Bolton town centre drinkers has also been acknowledged as another major reason for the continuing decrease in town centre crime and anti-social behaviour.

Chief Inspector Martin Greenhalgh from Bolton police said: "Bolton has a vibrant 24-hour town centre economy that attracts thousands of shoppers, workers and other users during the day and an equal number of drinkers, restaurant-goers and night clubbers during the evenings and nights at weekends.

"Bolton police, our partners in the Council and the licensed trades have worked hard to ensure that it is place where the safety and welfare of all users is paramount, and somewhere that visitors can enjoy free from the fear of crime.

"I am delighted that our joint efforts have resulted in such a significant decrease in crime and look forward to continuing to work with our partners to reduce town centre crime even further in 2008."